drama
Starring Murali, Manoj, Uma, Prateiksha, Sindhu
Directed by Bharathi Raja
Music Deva

Bharathi Raja, a director who is known to come up with village folk stories, that too with designer villages is trying to leave the debacle of his last movie TAJ MAHAL behind him and move on. And for this he decides to leave villages and move the focus of the story to another natural element, the sea.
And so, this time it shall be the sea that shall play the important role in this tale of friendship and sacrifice, a movie supposed to be loosely based on the malayalam hit 'AMARAM'.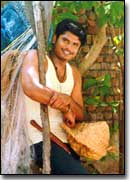 The story, is about the fishermen folk, in which we have two great friends, Manoj and Murali. However some misunderstandings between them make them sworn enemies of each other, and they battle continues even on to the sea.
Another important thing is that Bharathi Raja has decided to go for the music of Deva, instead of the usual A.R. Rahman. Anyhow, the basic thing that Bharathi Raja hopes to do with this movie is to re-establish his son Manoj as a lead actor.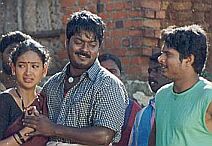 Looks like Bharathi Raja is certainly going the right way this time, especially since the movie did pick up a national award for best screenplay.