Mammooty is now hot porperty indeed in tamil. With his performance in AANANDAM, critics were wishing that Mammoty was a talent they wished that the Tamil industry had as their own.
But one must remember that Mammooty had scored several comedy movies early in his tamil movie career before making it big as a serious actor. But now with his latest movie - JUNIOR SENIOR he switches back into a light hearted role.
Afterall Mammooty is not an actor who likes to get stereotyped.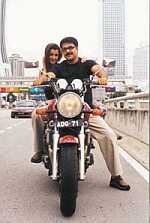 Mammooty plays the role of a leading architect/designer in Malaysia, Santosh. He shares his apartment with his junior Charlie, and somemore characters land up at his apartment.
Now Santosh though is in his 30s is still not intersted in finding a suitable life partner and settling down in life. And that is exactly what his friends are trying to do for him - fix him up with a right girl. However nothing seems to work and no girl wins Santosh's heart.
However Santosh soon meets a girl on a train trip and soon he bumps into her every now and then, and this friendship soon blooms into love. And soon they find themselves ready to even marry each other.
But then....there also seems to be a younger guy that Leena is in love with!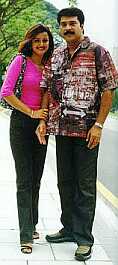 Newcomer Leena, a Malyasia based model, shall be playing the female lead in this movie.
The movie is completely set in Malaysia and is sure to be a visual treat indeed. The movie is completed and the post-production work is going on now at the moment with the makers hoping to release the movie by Pongal in both Tamil Nadu and Kerala.