If big brother Prabhu Deva could do it, why can't younger bro Raju.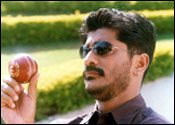 So yes guys, finally the choreographer turned dancer Raju Sundaram is finally going to transform into cine hero when he shall take on the lead role for the first time in a forthcoming movie.
And the other big news is that the heroine for this movie shall be none other than his real life lover, Simran!
This too would give enough reason for anybody to give this movie a second look.
This movie, titled 'I Love You Daa...' is being produced by Manoj Kumar who recently gave us VAANAVIL and is being directed by a newcomer C. Rajadurai.
Wanna hear something more interesting? This movie has cricket as its central theme, so expect a lot of match -fixing and other controversies to be included.
And the director also suggests that two major cricket players also might make friendly cameos in this movie.
So while Raju Sundaram will play the role of a cricketer, it shall be Prakash Raj as a retired professional player!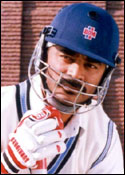 Now not many movies have been tried with cricket, the country's biggest passion as its theme, and even when there have been any it have only met with disastrous results. So it would be interesting to see how this movie will shape up.
But the director is confident with the subject and is also hoping for a big climax sequence set possibly in an actual Sharjah or London match.