Sathyan Anthikad -Jayaram to team up again
After the decent performance of NARENDRA MAKAN JAYAKANTHAN VAKA, director Sathyan Anthikad is looking to start off his next project with family hero Jayaram.
The script for this film will be by Lohitdas
KUNJI KUNNAN
Dileep will do his first-ever double role with this new film, directed by Sasi Shankar. The movie is reportedly the adaptation of a successful play.
Expecting it to be a comedy, the double Dileep will be supported by names like Kalabhavan Mani, Cochin Haneefa and Saleem Kumar.
SHARKARA KUNDA ORU THULA BHARAM
cast: Lal, Kalabhavan Mani, Nedumudi Venu and Vani Vishwanath
directed by Unni Bhaskar
Unni Bhaskar, assistant to P.G. Vishambaran, makes his directorial debut with this film.
AAYIRATHIL ORUVAN
cast: Kalabhavan Mani directed by Sibi Malayil
The succes of ISHTAM was something director Sibi Malayil will be very happy about. The movie is being really appreciated by everyone and Sibi couldn't have got it better.
But now the man is already working on his new project, with Kalabhavan Mani cast in the lead role. The movie has been titled AAYIRATHIL ORUVAN. It is a great oppurtunity for Mani in every way too. The script is by T.A. Razzak.
MEESHA MADHAVAN

cast: Dileep, Kavya Madhavan, Jagathy, Harisree Asokan, Salim Kumar, Cochin Haneefa and Indrajeet.
directed by Lal Jose
Director and friend Lal Jose had an idea for a comedy however he sadly had no producers. But Dileep stood by him and also found him a producer/ distributor, afterall who can refuse the box-office king Dileep.
So there you have it, with his other movies SUTHRADHARAN and MAZHATHULLI KILUKAM all being wrapped up he will soon start work on this comedy.
Indrajeeth will be playing the villain role for this movie, that of an inspector. Indrajeet will be making his debut however as a villain in the new Vinanyan film - OOMAPENNU.....
SAHODARAN SAHADEVAN
cast: Mukesh, Manya,Jagathy, Jagdeesh, harisree Asokan, Rajan P. Dev
directed by Sunil
Mukesh is trying a second innings at the boxoffice. After a good supporting role in SUNDARA PURUSHAN, now Mukesh is trying to hit it with a double role.
The shooting will commence soon in areas around Cochin.
NAMMAL - Kamal's new film
cast: Innocent, Sreenivasan, Cohin Haneefa,m Nedumudi Venu
directed by Kamal
After the success of the modestly budgeted Meghamalhaar, now director Kamal has decided to start a new film with two newcomers being casted in the lead roles. And this time too Kamal is hoping to woo the youth crowd with this movie.
However there is a strong supporting cast to back them up. Music will be by Mohan Sithara to the lyrics of Kaithaparam.
MAYA MOHANACHANDRAN
cast: Kunchako Boban, Meera Jasmine
directed by Shibu
Earlier titled "Postmane Kannanilla", this movie has been renamed as Maya MohanaChandran. The screenplay is by Sathyan Anthikad & Sreenivasan, but the direction will be by debutant Shibu.
Paired opposite Kunchako Boban shall be the 'Soothradharan' find, Meera Jasmine.
PUNARJANI
cast: Lal, Radhika Choudhary, Kalabhavan Mani, Vijayakumar, Jagathy, Cochin Haneefa,
directed by Baiju Kotarakarra
music Mohan Sithara
KAAKE KAAKE KOODU EVIDE
cast: Vijayaraghavan, Geetu Mohandas, Jagathy, Master Ashwin
directed by Rajshekaran
ANNUVADHAMILATHE
cast: Master Vimal, Jagathy, Jagdeesh, Cochin Haneefa
directed by I.V. Sasi
UNTITLED - Sreenivasan, Mukesh teams up
cast: Sreenivasan, Mukesh, Kalabhavan Mani, Jagathy, Harisree Asokan, Saleem Kumar and Nandini
directed by V.R. Gopalakrishnan
KANMASHI
cast: Vineethkumar, Nithya Das, Suhasini, Nedumudi Venu, Jagathy, cochin Haneefa, Kalabhavan Mani, Ambika, Devan
directed by V.M .Vinu
Nedumudi Venu plays the role of a rich textile businessman Padmanabhan Nambiar. However eversince his son left the house, Nambiar has completely lost interest in his business. Now the business is looked after his relatives while another relative cum lawyer Bhaskaran (Jagathy) is his friend and advisor.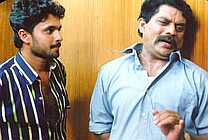 Now his relative brings home a young designer from Mumbai - Vishnu (Vineeth Kumar). Nambiar simply can't stand this young lad and thinks him to be spoilt and illmannered. And these two does not get along.
But Vishnu refuses to leave the house as if he has a right to stay there. Does he?
Nithya Das and Suhasini play the female leads.
PACHA KUTHIRA
cast: Suresh Gopi, Vani Vishwanath, Divya Unni, Rajan P. Dev, Kalabhavan Mani
directed by Susheer
GRANDMOTHER
cast: K.P.A.C Lalitha, Jagadeesh, Innocent, Jagathy, Harisri Ashokan, Athira
directed by Sunil
KPAC Lalitha who won accolades and awards for her performance in SHANTHAM is all set to play another important and central character of an 82 year old woman in Sunil's new film GRANDMOTHER.
The movie is getting ready to hit the screens very soon!
OOMMA PENNINU URIYADA PAYAN
cast: Jayasurya, Kavya Madhavan, Indrajeet (sukumaran's son)
directed by Vinayan
DIAL 100
cast: Biju Menon directed by Shaji Kailas
Revathy Kalamandir - Asianet Communications together went on a big talent hunt for thier new movie, DIAL 100...and thus nearly 7 newcomers are gonna get their big break in the movie.
However the lead role shall be played by Biju Menon. The movie is being directed by one of the top directors of Malayalam industry today, Shaji Kailas.
His last two movies- NARASIMHA and VALIYETTAN were super mega hits. But both those had the megastars of the industry. But can he do the same thing without them and just a handful of newcomers. It will be worth checking this out!
MARGIN FREE THATTU KADDA
cast: Jagdeesh, Nishant, Kalabhavan Mani, Harisree Asokan, Manya, Bindu Panickar and Jagathy directed by V.R. Gopalakrishnan music by M.G. Radhakrishnan
A host of the biggest comedy stars come together in this movie to keep you amused.
SAVAAL
cast: Biju Menon, Lal, Jagathy, Cochin Haneefa
directed by Suresh Krishnan Music Ousepachan
Suresh Krishnan's last film ACHANEAANE ENIKKU ISHTAM might no have done well but the man is already working on his next project with Biju Menon again in the lead. And the maker is gonna return again to Ooty to make this one too.
WELCOME TO KUNJAVARACHAN
cast: Vjayaraghavan, Jagathy, Jagdeesh, Innocent, Janaardhanan, Indrans, Kottayam Nazeer directed by Sanjeev Raj
This is a comedy caper that has all the major comedians. The movie is supposedly based on a popular comedy book by the same name.
Jayaram - Anil Babu
cast: Jayaram directed by Anil Babu
Anil Babu and Jayaram teams up again after their recent UTHAMAN for a forthcoming movie expected to release by Vishu. The movie is brought to you by the producers of VALIYETTAN, AMBALAKARA FILMS.
MEGHA MALHAAR
cast: Biju Menon, Samyuktha Verma, Siddique
directed by Kamal
It seems that there is a rift between the makers of CHAKRAM and as they pass the blame on each other, director Kamal has already gone on to work on his next project.
The movie is co-produced by Mathrubhumi and Asianet. It is yet another small budget movie which could be eventually released as a tele-film.
ZAMINDAR
cast: Suresh Gopi, Divya Unni directed by Haridas
The shooting for this movie is progessing fast in areas in and around Pollachi. The female lead, initially supposed to be Samyuktha has now been bagged by Nandini. Divya Unni also plays a role in the movie.
KAAKI NAKSHATRAM
cast: Jagdeesh, Nishant, Aathira directed by Vijay P. Nair Shooting has been completed for this comedy of cops n robbers!
CHRONIC BACHELOR
cast: Mammooty, Mukesh
directed by Siddique
A new Mammooty project has been just announced with this rather unusual name - CHRONIC BACHELOR!!
The movie was supposed to be a Vishu release but director Siddique of Siddique-Lal fame has now kept the project on hold since their mentor Fazil is also planning to come up with a vishu release with newcomers.
FAZIL's next MAAYASUGUNDHAM
Fazil is looking to release a new teenage love flick on the lines of ANIYATHIPRAVU with newcomers and hoping to get it ready by Vishu!
ANGAMALLAIYILE PRADHAANAMANTHRI
cast: Jagathy Sreekumar, Innocent, Kaavya Maadhavan
directed by Sandhya Mohan

Yet another comedy caper coming from the makers of movies like Amma Ammaiyamma and My Dear Karadi.
But what is interesting is that I recently heard that this movie is a sequel of the Priyadarshan superhit comedy KILUKKAM. So this movie will continue to focus on the story of Jagathy, and Innocent, sans Mohanlal, Revathi, Thilakan and the rest of the gang. Now how far is this true is yet to be seen!
ILA POZHIYUM KAALAM
cast: Biju Menon, Bhanupriya, Poornima Mohan, BalachandraMenon, Jagathy, Narendra Prasad and Sri Vidya
directed by Sunil Kalathil
Biju Menon shall play the role of Mathew Stephen, an artist who lives a solitary life in some hill-station cottage. The movie shall be spanning this central character's life right from a youth to his old age.
Poornima Mohan shall be Gauri, Stephen's lover.
Sunil Kalathil makes his directorial debut with this movie the story of which is by Sunil himself. The music shall be composed by Benny-Ignatius.
BHIMASTA
cast: Seema Biswas, Nirmal PAndey
directed by Jairaj
One of the finest directors we have today, Jairaj has already began shooting for his next movie.
This movie, titled BHIMASTA, is the third of his 'navarasa' series that he is planning- KARUNAM and SHAANTAM being the first two!
This time he also joins the pair of BANDIT QUEEN - that is Seema Biswas and Nirmal Pandey!
TENKASSIPATNAM sequel !!!!
cast: Suresh Gopi, Lal, Dileep
directed by Rafi Mecartin
TENKASSIPATNAM managed to make the cash registers ring once again and ended up as a big blockbuster, but then many did make claims that did not have a sensible ending.
So Lal shall make things right, by promising all moviegoers of a sequel to TENKASSIPATNAM, produced by his own banner LAL CREATIONS, and hopefully, the entire cast shall be back!
How's that for entertainment ???
CHITRA VARNAM

cast: Nishant, Vineet, Aishwarya, Jagathy, Harisree Ashokan,
directed by Pappan Payattuvilla
AGNI NAKSHATRAM
cast: Suresh Gopi, Biju Menon, Aishwarya, Indraja,
directed by Kareem
Suresh Gopi and Biju Menon who was just recently seen together in the suspense drama COVER STORY shall team up once again in this movie.
Suresh Gopi plays a kalari expert who comes into the Thirumangalam Tharavaadu to start a kairali training school and to revive the martial art form. But he also have other plans that takes him to the tharavadu which is looked by the brothers Velliachan and Aniyan Thampuran (Biju Menon). Aishwarya also comes in as a TV journalist.
Music is by Raveendran.
SARKAR KUDUMBAM
cast: Dileep, Kaavya Madhavan, Nedumudi Venu, Jagathy, Saikumar
directed by V.M. VInu
Yet another movie that brings together the pair of Dileep and Kaavya Maadhavan. With music by Mohan Sithara and a good supporting cast, let us hope the director can come up with a strong yet different movie.
VASAVADATTA
cast: Boban Aloomoodan, Bhanupriya
directed by Shyamnath
Based on one of the most finest of poems penned down by the great poet of Malayalam, Kumaaran Assan, this movie shall be starring Boban Aloomoodan (of NIRAM fame) in the lead role of a monk while Tamil star Bhanupriya shall be playing the title role of Vaasavadatta.
PRAVAASI

Director Shyama Prasad's next
starring Suresh Gopi
Shyama Prasad's next venture shall be also yet another look at the life of Gulf Malayalees and is titled PRAVAASI. The only thing finalized as of now is the lead hero who shall be none other than Suresh Gopi.
SHAJI N.KARUN's THE SEA
Acclaimed director Shaji N. Karun who recently swept the awards with his VAANAPRASTHAM has announced his next feature movie, which will be based in a short story written by writer T.Padmanabhan, KADAL (THE SEA).
Mohanlal shall return to team up with Shaji in this movie, but the main highlight is that Jaya Bachchan shall be acting in the movie.
The movie is only scheduled to start only by mid-2001. Plans are to shoot in locations like Ladakh, Rajasthan and Banares. Though the story on which it is based is titled KADAL the sea, the locations are all away from sea. The story revolves around a character who has this fascination for the sea but has never ever seen it.