FRIENDS, the Pongal release is a remake of the super hit Malayalam movie by the same name. And it is also being directed by the same director Siddique. Ofcourse, you have Vijay replacing Jayaram from the original and the director also makes the topical changes necessary for the movie to do well in the Chennai circuits.
Cast in the movie as the three leading trio of friends are Vijay, Surya, Ramesh in the roles of three really good pals Aravindan, Chandran and Krishnamoorthy respectively.
These three good friends pass through thick and thin together, and Aravindan's sister falls in love with Chandru, but Chandru is not eager with the idea for the sake of the friendship.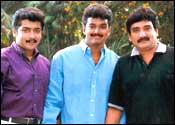 But certain misunderstandings cause problems within the friends and they get caught in a police case of sorts. And to escape from that, they go to Chennai and camp with Krishnamoorthy and his uncle (Vadivellu).
And these three tag along with the uncle on one his painting assignments to a rich household and it is here that they meet Padmini (Devyani) who is the heir to this royal throne.
And when some love letters come pouring in to Aravindan, the buddies believe it to be Padmini and eventually Padmini's marriage gets broken thanks to the three friends. And Padmini is out to take revenge and vows to make Aravindan's life a living hell.
Padmini does end up marrying Aravindan but for everything that goes wrong with Aravindan, Chandru believes that Padmini's evil ploys are behind it all. Slowly the friendship begins to crack and break between the two best friends.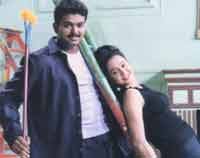 Vijay is adequate in the role of Aravindan, and yes, the role has been also quite modified to suit him. Surya and the rest of the guys are also good enough to keep the movie afloat. Devyani however does not look fit for the role, which was done by Meena in the original.
Music of maestro illayaraja too fails to hit the bulls eye with this rather average music score.
However the director has failed to keep the movie in the same grade as the original but the bottom line is it is enough to keep most of the viewers happy, especially the hard core Vijay fans.
Write in and tell us what you think of this movie