ENNAVALE, is a big disappointment from the word "GO". Even Madhavan simply fails to impress.
A movie with Madhavan in the lead is sure to make the public go frenzy with great expectations especially after the way he stole everyone's hearts with ALAIPAYUTHEY. But his new movie, ENNAVALE, on the same note is a very big disappointment. The movie is just a typical run-of-the-mill love story and even the narration is as typical as it can get.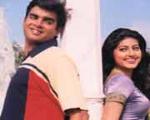 Here is a love story with nothing new to offer her even on the form of a story. Madhavan and a trio of his friends (including one blind, and one deaf) are wedding singers of sorts with their music troupe. And they happen to live in the house of Manivannan. It is the landlord Manivannan's daughter Sneha who comes up with the required encouragement for these strugling musicians and finally Madhavan does manage to head the right way as far as his career goes.
But Madhavan, as expected, also begins to fall in love with Sneha. However Sneha stays away from him and gives a whole senti-past about how she is a divorcee who was abandoned by her husband for another woman. And our hero, Maddy is not the kind to forget her easily. But then Sneha too changes her mind and confesses her love.
However the usual filmi misunderstandings take place and Madhavan never comes to know of Sneha's love, and soon Sneha's marriage is fixed with another man and ironically, it shall be Madhavan who shall be the wedding singer.
However everything is sorted out in the end, and the lovers unite in this happy ending that make any moviegoer end up sad for watching a movie that is a waste of time.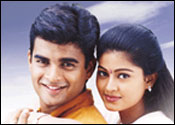 ALAIPAYUTHEY too might have had a similar storyline to an extent, but the treatment was what made it all stand out at the end. However here we have a rather disappointing attempt of a movie that gives the viewers nothing to relish on.
Sadly, the trump card, Madhavan too fails to dazzle in this role and the applause is stolen by an otherwise decent performance by the heroine Sneha. The rest of the performances are just average.
Even S.A.Rajkumar's music is a complete washout with old tunes being revamped here once again.
All in all, a movie that never rises above the mundane. An absolute disaster!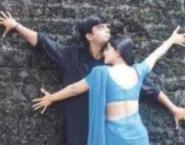 Write in and tell us what you think of this movie