Madhavan shot into overnight fame with ALAIPAYUTHEY, but sadly, after that with his next releases like RELAX, MINNALE and ENNAVALE he seems to be going nowhere but down the charts.
But seems like he need not worry for finally here is a movie that might get him back on the right track. And it required a Mani Ratnam touch again!
From the Mani Ratnam stables, comes this new release DUM DUM DUM, directed by his apprentice Azhagam Perumal and with screenplay work done by Permual and Mani Ratnam combined.
So we have Aditya, the urban educated youth with the typical take-it-easy policy in life. However Aditya gets summoned back to his village by his father where he is told the news that his marriage has been fixed with a close family friend's daughter Ganga.
Now Ganga who just finished her high school is a good student and is keen to pursue her engineering course but this sudden marriage plans seems to have become an obstacle to her dream. And the last thing on Aditya's mind is marriage. So these two manage to meet each other and express their unwillingness to go in for the marriage. So both tries several tricks to disrupt the marriage, but all the attempts fail. However, meanwhile, both begin to get attached to each other.
However the marriage does gets cancelled off when just before the marriage there is a misunderstanding between the two parents, and so both Aditya and Ganga go about their usual lives happy that the marriage was called off.
Later, Ganga lands up in Chennai to study engineering and stays with her uncle who happens to be a lawyer (Manivannan). Coincidentally, Adithyan, after finishing his law course joins Manivannan and work under him as his junior. Thus Ganga and Adithya keeps meeting each other more often and it does not take much time for the whole romance to bloom.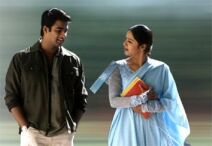 But then again, the parents suddenly have no liking for each other, and therefore to ensure the success of their love, both Aditya and Ganga have to help in their parents getting back to their good ol'ways.
Music by Karthik Raja is definitely a stand-out. And the other thing the director has managed to do is go in for a Mani Ratnam -style way of handling the songs and it picturisations. Camera work is certainly commendable. Thus what we have ultimately is a delight both to the ears as well as the eyes.
The director also wonderfully combines the elements of the village with that of the major city life. And this fusion also works quite well.
Thus it is the director's deft and refreshing treatment of the subject that wins over everything else. But there is also a need for some more tightening up of the script especially in the second half where the movie kinda begins to just drag along.
Performance wise Maddy is quite perfect in his role while Jyothika seems to be more or less repeating herself. Another impressive performance is that of Malayalam actor Murali in the role of Ganga's father.
Thus, finally we have a decent entertainer that is expected to please all sectors of the crowd with this breezy love story, and certainly Azhagam Perumal shall be director to reckon with in the future.
Write in and tell us what you think of this movie