Told in the backdrop of the hill station, the story revolves round Nimmi (Meena) who is the daughter of a rich planter. Soon she meets a charming and handsome mewly appointed doctor in the vincity, Dr. Roy (Suresh Gopi).
Their meetings began to get more casual and finally Dr. Roy lands up with a proposal to marry Nimmi. However Nimmi, inspite of her flirtatious behavior was never interested in such a proposal and she tells Roy about her lover, Shiva Abbas) who happens to be musician.
A heartbroken Roy goes back and in one his inebriated moments, even goes on to threaten to kill Shiva and take revenge on Nimmi. Coincidentally, Shiva is actually found murdered a few days later and the suspicion falls naturally on Roy. Nimmi too suspects Roy to behind the murder.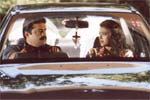 In comes Rahman as the inspector, making a comeback of sorts into Malayalam movies, and it is now upto him to get to the bottom of this and emerge with the true murderer.
The plot certainly has its share of moments, thanks to a decent effor by the support cast. Abbas comes in yet another forgettable role. However, while both Meena and Rahman comes out in top form, it is Suresh Gopi who looks rather out of place in the movie.
The movie can also boast of good music from Vidyasagar and good locales captured wonderfully on camera.
However, it is the script that makes the movie rather damp. The storyline lacks conviction and instead filled in with absurd and illoogical reasoning of events, which takes all the fun out of any suspense thriller.
Thus Dreams turn out to be a rather disappointing nightmare of sorts.