Inspired by the Hollywood flick DOUBLE JEOPARDY and even our own desi ANDHAA KANOON, comes the latest movie DOST. It takes up that big question of a man falsely accused of a crime first time, escapes, does the crime later and walks away scot-free for he has been already charged with the same crime.
DOST is a tale of two close friends who ends up as big time enemies.
THE STORY
Vishwa and Raghu (Raghuvaran) are two great friends. Vishwa (Sarath Kumar) is a wealthy businessman and a single father to his 4-year old daughter, Nila.
Now the cosy friendship that Vishwa and Raghu changes one night, when both of them are out in the sea in a boat celebrating Raghu's wedding anniversary. Here however Raghu gets drunk and accuses Vishwa of having an affair with his wife, which Vishwa laughs it off. And both sleeps over the whole issue. But next morning, Vishwa gets up only to find himself covered in blood and his friend Raghu missing.
Vishwa is charged with the crime of killing his friend Raghu. However in jail, Vishwa tries to get in touch with his daughter, and in the process comes to know of the fact that Raghu is still alive and had pre-planned the whole thing and framed Vishwa deliberately.
So Vishwa breaks prison, and the cops sent Inspector Neelankandan (PrakashRaj) to capture the prisoner. However the cop too comes to know of the truth.
Finally, Vishwa does get his hands on Raghu and kills him off, and when he is back in the court, he puts the big question - "Can a man be convicted for the same crime twice?" YAWN!
WHERE THINGS WENT RIGHT
Though not original, it still is a decent script that the director has worked upon.
Raghuvaran steals the show once again in his superb portrayal and manages to overcome the defects of his character.
It is also a suitable role for Sarath Kumar. Abhirami too does a good job though she has nothing much to do. The cast is actually the big plus factor of this movie.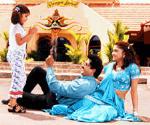 WHERE THINGS WENT WRONG
Though the script is good, it is nothing but a rehash of the Ashley Judd starrer DOUBLE JEOPARDY. No signs of originality in this one.
Prakash Raj's role is one that has been seen by his fans over and over again. And this time his performance falls below expectations.
Raghu's evil motives are not well justified in the movie.
Abhirami's character has nothing to do with the main plot.
The songs are also worth a snore!
F I N A L V E R D I C T
DOST scores when it comes to the cast and performance. And though it is a poor version of DOUBLE JEOPARDY, it still is worth a watch!