Ajit is a talented star and no doubt about that. But then he needs big movies and big hits to cement that status. But however with all the experimentation he loves to do, there is still no guarantee of a mega hit.
Ajit is certainly banking a lot on his latest movie DEENA, but DEENA does fall into the seen-before category and might have a hard time proving itself at the box office.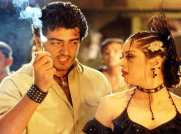 Ajit plays the title role of Deendayal, an orphan kid who gets adopted by a local goon, Adikesevan (Suresh Gopi). And thus Deena is more like any other member in that happy family that also includes Adikesevan's mother and sister. Thus Adi and Deena gets a strong bond and Adi's orders and wishes is Deena's command and Deena goes about bashing up people whenever the need arises. But both these men are rowdies with a kind heart and are always there to help the needy.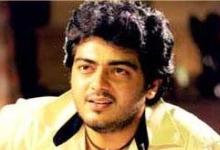 Now Deena happens to have a love-at-first-sight when she meets Chitra (Laila) and incidentally, Adi's sister is also in love with Chitra's brother. Now knowing that Adi is not going to really be happy about his sister's affair, Deena and others decides to keep it a secret.
But things go wrong when the sister elopes with the lover and meets with a tragic accident eventually dying. And an enraged Adikesevan believes that the guy forcibly took his sister and therefore vows to kill each one of the guy's family. ButDeena who knows the truth refuses his big bro here. And even when Deena comes out with the truth, Adi refuses to believe it.
And thus the rest of the movie has these two brothers splitting with one trying to kill the family while the other trying to protect it.
Ajit is his usual self but the problem is that it seems like we have witnessed this angry image even in his blockbuster AMARKALAM, and certainly that hangover persists. The unshaved, rugged, chains, all reminds us of his character in AMARKALAM and there is no way of getting that away from the mind.
But who really shines through in this movie is Malayalam action hero Suresh Gopi who certainly makes an impressive entrance into the Tamil scene.
As far as the rest of the cast is concerned, nothing exceptional out there.
The songs are pretty good and have been picturised too well. So one might never have a serious problems there.
But the story is a mixture of lot of these goonda movies like AMARKALAM and sometimes the Ajit-Suresh Gopi bond reminds one of the Rajnikanth-Mammooty bond we saw in DALAPATHY.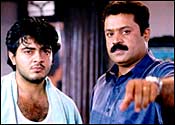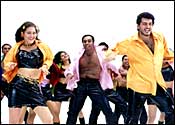 The others in the cast include Divyasri, Shyam Ganesh and Balaji. Nagma is also featured for a dance number with Ajit.
A.R.Murugdas, after being an assistant to director Surya in VAALI and KUSHI, finally makes a rather average debut with this movie. While at times he shows great control with the screenplay, the average script is what really lets him down.
Write in and tell us what you think of this movie