Prakash Raj is a talented actor...no doubt about it. But unlike Parthiban or Raghuvaran, he has not been really appreciated. But luckily he is one actor who dares to be different and try out different roles. But sadly, not many producers and directors step up to give him lead roles.
So now here is a film, with Prakash Raj playing the hero, and the movie is also being produced by him, under the banner - DUET FILMS.
Daya is a local rowdy and a much dreaded one indeed. He hangs around with his bunch of sidekicks, who too fears his mood swings. But they still look up to him.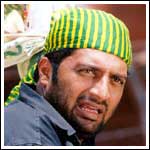 However it is a down-to-earth Thulasi (Meena) who takes the guts and confront him in public about his irresponsible behavior. Thulasi who works as a teacher in an orphanage run by Sharada Amma (Lakshmi) ends up putting Daya behind bars.
Later Thulasi itself starts liking Daya thinking that he is turning over a new leaf. But Daya just uses her help to embarass her.
The twist is with the entry of Major Rudrayya (Raghuvaran) who hires Dhaya to destroy the honor and status of Sharada, and for this Daya begins to gain the old lady's trust. Later however Daya realises that Sharada is actually the Major's wife and had got him behind bars for trying to rape one of the girls from the orphanage.
Daya learning the truth now decides to really turn over a new leaf.
Prakash Raj goes about to show that he is a better candidate to pull off these 'goonda' roles rather than any of the current chocolate boys like Vijay, Prasanth or ajit. It is sad that not much of the industry people are ready to cash in on him.
Prakash Raj goes about his tailor role with ease. Yes, at certain scenes he does get carried away but does not harm the movie or the character in any way.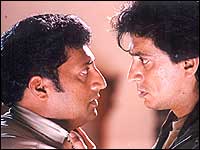 Raghuvaran is his usual cunning self though the role is not clearly sketched, while Meena as the actress is just about okay. Lakshmi too does her role with a veteran's ease.
Simran has been roped in for a special dance number which is like a safety net to draw in the crowds atleast.
The movie is definitely a decent debut from the director Senthil Kumar and the movie might eventually turn out to be a decent bet in the long run. The movie has been handled sensibly by the makers. The movie however does not keep a steady hold over things and it looks like the movie is slipping into monotonous routes every now and then.
Bharadwaj's music isn't anything really ground-shattering either.
Prakash Raj's production venture, though aimed at front-benchers, is definitely worth a look.