Darling Darling is simply another comedy entertainer from Rajasenan, this time with a love triangle being the focus of the story.
Chandrabose (Vineet) is a freaky young guy who like every other causes the usual problems for his father, who finaly sends him to Bangalore. It is here in Bangalore that Chandru meets Aniyankutty (Dilip), one of his best buddies, and he decides to camp along with him, and join in his adventures..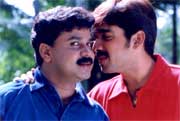 Aniyankutty is a happy go lucky casanova, enjoying life, thanks to the money his parents residing abroad keeps flowing in. And he stays with a local guardian (Jagathy) who too joins the two young guys in their petty pranks.

Now Chandru's father Kuruppu suddenly decides to fix his marriage with a girl becasue he fears his son might end up eloping like his star signs predict. So he fixes the marriage with a girl and send the photos to Bangalore.
However, on seeing the photos, Aniyankutty realises that the girl is none other than the girl he is in love with. Now Anniyankutty decides to keep the identity of the girl away from his friend, and instead sits up and hatches numerous plots to ensure that the marriage does not take place.
And so the movie, like a rollercoaster ride, takes the expected twists and turns, before we finally get to know who will ultimately tie the knot with the girl!


One gets to see Vineeth back on the Malayalam screen after quite a while, and he does manage to give his best. But then once again, it is Dileep who manages to ride away with the credits with a strong multi-shaded role. The others including Jagathy, Janardhanan, Indrans, Kaavya Maadhavan, Sukumari all chip in with fine shows.
Another sure plus point is the music. Though it has been heavily inspired by several of Rahman tunes, it is still managing to stay at top of the music charts.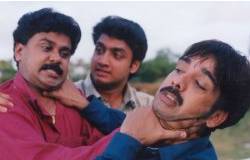 Rajasenan also manages to bring back some of the magic that was missing in his last few movies and the best part is that he does not depend on his usual trumpcard - Jayaram to do the job.

Darling Darling fits into the entertainer slot perfectly. With good and impressive performances from every member of the cast, the movie certainly scores.


Write in and tell us what you think of this movie