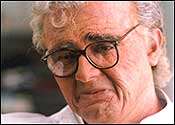 Ajit does not disappoint in his latest movie CITIZEN but the movie does fall short of the sky high expectations that was expected from it.
Ajit is only known to the real world as Abdul Rahman, just another auto mechaninc. But the truth is he is none other than CITIZEN, a man who is on a mission to kidnap tthe collector, a high court judge, and the DGP. And for this man uses various disguises to get through his task.
Well, there is a reason for this mission too. It seems that these three high officials were the reason why a whole village by the sea had got destroyed. And this man, Citizen is the only survivor of that tragedy.
Naghma plays the role of a CBI officer who is hot on the tracks of Ajit, while Vasundhara Das is the city girl madly in love with Ajit.
Finally the CBI and cops does manage to get hold of Ajit and is presented in front of the court where the rest of the high tension drama continues.
Well, frankly the music of Deva is so un-inspiring and boring. Drawing heavily from several other songs, this is a poor work for a high profile film like this.
However Ravi K. Chandran's camera work is worth the mention.
Director Saravanna Saurabh has managed to make a decent action thriller, but he gets too carried away with the theme, storyline and even gives it the unnecessary slick look at times.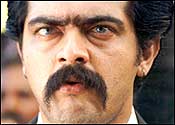 Vasandara Das is just about okay in her role. Naghma does well as the CBI officer, and Meena too shines in a small cameo role.
But the movie entirely belongs to Ajit. He has proved that he is a fine actor and can to extremes to prove his case.
However the movie isnt without its share of flaws. The movie does gets stretched unnecessarily and also does deviate from the central theme. The movie also does look heavily inspired by the Kamal Hassan starrer INDIAN.
But it still is a decent movie that might work well in the cities. The rest of the place, it's success is not so certain.