Director Kamal brings the talents of Mohanlal and Dileep together inorder to give the malayalam cine viewers something great top look forward to. And it would be none other than Lohitdas who will be doing the script for this movie which gives it more reason to watch out for.
Mohanlal plays the role of Vijaykrishnan who comes to Pollachi with his cousin Prem Chandran (Dileep) as they try to leave their past behind. And here Vijaykrishnan lands a job of a truck driver and takes Prem as his cleaner (kili). And it takes the easy going Prem to cool down an over tempered Vijay. But things are not so smooth for him in Pollachi either. The heroines shall be played by newcomers Lakshmi Gopalswamy and Vidya Iyer.
Mohanlal certainly is not having the best of times as far as box office is concerned. After the mega-success of NARASIMHAM, the rest of the movies were either moderate or failed miserably. Something very unlikely of a Mohanlal film.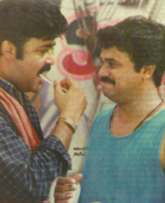 On the other hand, Dileep has never had times so good like this. First of all to begin with, the big role in the form of JOKER, then hits with DARLING DARLING, DOSTH and super success with TENKASSIPATNAM.
However now we have both Dileep and Mohanlal teaming up together hoping that this could be the magical movie that could set everything right for an otherwise sagging malayalam movie industry.
All in all, this brings together a great team, probably one of the best that the Malayalam industry can offer at the moment. And even if this fails, then we badly need a miracle!
But now it seems that this great team cannot cop up with the problems and egos. The price one has to pay for such star-studded team.
Update (May) SHOOTING HAS BEEN STOPPED, SCRIPT REWORKED!
The movie's shooting has been reportedly stopped since none is happy with the way the script has shaped up so far. So the script is being redone at the moment. For, Mohanlal is not taking any risks as far as this movie is concerned.
Moreover, Dileep also reportedly fractured his arm during the previous shooting sessions of the movie.
Update (June) NOT AN ONAM RELEASE ANYMORE!!
Initially planned as an Onam release, now the shooting, the second schedule of the movie shall only resume after the shooting of Mohanlal's other film RAVANA PRABHU. The first schedule of CHAKRAM has been successfully completed at Pollachi.
Now the movie is slated to release only by Nov-Dec!
Update (September) CHAKRAM HAS BEEN SHELVED FOR THE MOMENT
Seems like there is a rift now between director Kamal and scriptwriter Lohitdas. Lohitdas is adamant that he can't do much changes with the script, which reportedly is just half-complete.
Kamal meanwhile thinks that lots of changes need to be made to satisy the Mohanlal fans out there. But for Lohitdas his character is more important. Everyone is passing the blame to each other.
Kamal still believes that the movie will be completed.
For the time being, everyone is busy with some project or the other. Kamal is working on his next movie, Lohitdas-Dileep have teamed up for SOOTHRADHARAN, Mohanlal has completed a couple of movies during this time. And even his RAVANA PRABHU has gone on to become a huge hit.
However producer Johny Sagarika is a troubled man for now!