So Vijay comes with yet another remake. But this time, he certainly seems to have gone the wrong way. For what he opted is for a remake of a telegu superhit , which in turn is a remake of an Aamir Khan starrer JO JEETA WOHI SIKANDER.
So the story over here is anybody's guess !
Bhadri (Vijay) is a easy-going college lad in the locality, and who has a very good childhood friend in his neighbour Jaanu (Bhumika). It is always Jaanu who he runs to whenever he is in trouble. And Jaanu has the heart for this chap.
But Bhadri does not see anything more than a good friend in Jaanu. Instead he tries to woo the heart of a new girl in town Mamati (Monal). But Mamati is a girl who prefers rich guys and materialistic pleasures, so Bhadri tries to impress in various ways while hiding his true class and family background.
Meanwhile Bhadri's elder brother (Riaz Khan) is a good boxer and is preparing for the Boxing champioship but things go wrong when he is banged up by his arch rival Rohit and pals. And also in the meantime, Bhadri loses Monal to the wealthy Rohit while Bhadri realises that it is Jaanu who really loves him.
So with Bhadri's brother out of the championship, and high hopes of everyone around him to win the championship, Bhadri takes up the responsibility and challenge on his shoulders, goes through strenious training in the remaining time, and actually ends up winning the championship.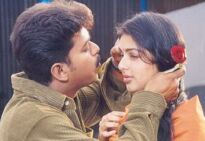 Vijay is just average in this role and the whole movie is built around him. But then again, he is no Aamir by no means. It is Bhumika's debut that is much more worthy here. A debut done reasonably. RiazKhan, Monal are all just average.
The music and the comedy track pulled into the story all simply is rotten and on the whole, director Arun Prasad is trying to win some audience with age old stuff and there is nothing that really stands out.
Bottomline, one of the weakest Vijay movie ever!
Write in and tell us what you think of this movie