This is yet another unsuccessful attempt to make a love story on the lines of the huge blockbuster KADHAL KOTTAI.
This time, however, the pager takes over the medium instead of letters, phones or emails.
The story is about a young guy Arun Kumar who is shown to be in a serious financial crunch with his mother needing a good amount for an operation to cure her tumour.

Now a girl is impressed with Arun and his paintings and starts communicating with him but only on a pager. Anad this affair keeps going along with the girl making Arun chase after her. However it so happens that the girl suffers from this complex that she is really ugly and might not be loved.

And even once, when she actually is in front of Arun at a bus stop, Arun fails to notice her while he gets busy talking to all the prettier ones standing there.




And thus, the complex gets bigger, and finally the girl fearing rejection decides to commit suicide and thus make her love eternal. And Arun still does not get to see her even after she is dead, as she gets cremated before he could.

Now, with an already crap storyline, it gets even worse, with neither the viewers getting no glimpse of the heroine.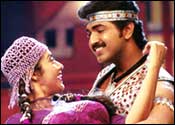 Moreover the songs aren't that great and is being covered with songs picturized lavishly. That also includes guest appearances from Rambha and Meena. Still, even that can't make up for the weak script, poor jokes and some bad acting from everyone.

A movie that should be avoided at all costs!!