Alaipayuthey is a Mani Ratnam movie. Now obviously those words create a lot of expectation in any movie buffs minds already. But not much of that is there when one actually watches this movie.
The opening shot shows Karthik (Madhavan) zooming past on his bike towards the railway station to meet his wife Sakthi (Shalini) and tell her the good news regarding his software company's big break. However Sakthi fails to arrive on the expected train. KArthik waits longer and even after some more trains, Sakthi still is nowhere to be seen.
At this point, we are taken through a flashback by which we come to know more about these two characters and even on how these two meet each other. Though Sakthi does not easily fall into Karthik's arms, eventually she cannot hold back her love for him any more further. And as the love gets stronger, they even discuss it at home with their folks. But social status and positions come in between with the marriage proposal being broken.
But the young lovers still cannot keep away from each other and finally ends up deciding on marrying secretly. They do go back to their respective homes and keep the marriage a secret, until finally she comes out in the open with it when she gets pressurised with another marriage proposal. Being thrown out of the house, Sakthi joins Karthik and they go on to live a new life together away from their families.
And with the help of their pals, they do manage to set up a small and happy home. But then like every married couple, small arguments and opinion differences begin to creep in and soon it evolves into big fights and disputes. Even when Sakthi's father is seriously ill, Karthik refuses to go and meet him. But eventually when he dies, Karthik decides to set some things right out of guilt. However, misunderstanding still prevail among the couple.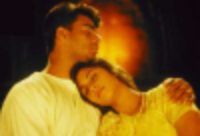 The story shifts back to the present time and we are shown Karthik still searching for Shakthi. Suddenly a shock awaits him when he finally finds her whereabouts.
Madhavan in his first movie might not be exactly new because he is such a familar face for any TV buff. But this big screen is, or actually has, already made him a household name. Undoubtedy, the 'Hrithik' down south. He does a pretty good job of his oppurtunity he received here too. Shalini comes up with a good performance but fails to sizzle like her male co-star. Arvind Swamy and Kushboo too makes a special appearance where they are shown as a couple with qualities in complete contrast to those of the KArthik and Shakthi. The rest of the cast are just there with nothing exceptional to do except Shakthi's sister.
Mani Rathnam does makes a deliberate attempt to stay away from anything controversial and sticks to a simple love story.
However the director's lone focus on the technical aspect has affected the emotional aspect of the movie.
The characters and the going ons of the couple fails to get the audiences interest.
Speaking of cinematography, P.C.Sriram has done a marvellous job to give the viewers some great visuals. He indeed helps in bringing even more grace to the melodious score of A.R. Rahman. Rahman comes up with a good score in this one too but it undoubtedly is the weakest of scores of the Rahman-Ratnam team to date. But the music definitely isn't disappointing in any way. Choreography of Farah Khan too is good. She does keep it toned down and simple with the tone of the movie and does not try to do anything heavy.
Mani Ratnam has done a wonderful job with the narration part. The usage of flashbacks to do the story and how the opening scene is woven well into the story does shows the director's brilliance at work. He also uses the train as another character in itself. But one wonders why the waves are given the credit in the title.
Thus Alaipayuthey in no way is a bad film. But it certainly isn't a great memorable movie like the kind you expect from the Ratnam factory.
A decent movie, with a simple love story told in a rather appealing way.