reviewed by Jox
So first things need to be sorted out- What is YUVA about?
If YUVA is about how important it is for the youth of today to step in and prove their worth in the society and make a difference by sticking their neck into the world of politics, well this film fails to give us any insight- except maybe for a last minute foot note about 'time we saw some jeans rather than just genes in the parliament'.
However if YUVA is about three everyday youth from different setups of society and how their life affects them when their worlds collide...then YUVA works splendidly.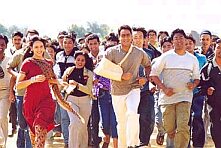 Three different characters...one common incident...that changes their lives forever.
Michael Mukherjee (Ajay Devgan) is dropping off his childhood sweetheart (Eesha Deol) when he is stopped by a loverboy Arjun Balakrishnan (Vivek Oberoi) who is desperately chasing his love to get his message across. Michael gives him a lift, but little do they know that they are being followed by Lallan (abhishek) who is out on a job to kill this upcoming college politician Michael.
Three bullets are pumped into Michael's body when we get to discover more about this three characters...
Lallan is gutsy enough to win the heart of his love Sashi (rani Mukherjee) but knows not how to keep that love. For inspite of his wife's pleadings, Lallan refuses to give up his 'goonda-gardi' ways and turn over a new leaf. However Sashi hopes that the news of his baby would bring about a change in him.
Michael is an excellent student but finds the call of social responsibility more alluring. So not only he manages to win the college crowds praises and appreciation, but also gives up a rare scholarship so that he can serve the needy like his revolutionary father.
Arjun Balakrishnan is the happy go lucky college guy who lives for the moment. So he just dances and flirts his way around, till he can grab that visa to USA. Meanwhile he also strikes a friendship with Meera (Kareena) which eventually turns into something more.
And so Lallan, Michael and Arjun, ...all the three...comes together one fine day on the bridge over Hoogli, and life changes, their personalities go for a spin.
So it is not genre-specific. Though it might have its share of emotions, romance, action and the thrills, it does not move into any one territory comfortably to set into a genre. It tries to touch it all and yet avoid the fall. However the film isn't throwing into you any of the in-your-face patriotism, nor does it serve any hard hitting message out there.
Script wise there is a good structure laid down that keeps the audience hooked throughout. And the pace is surprisingly fast for the usual Ratnam style. Three episodes, and Ratnam manages to plug us all into all the three characters and get us attached, only to unhook us and attach us into another world, another character in a short while. However when the three worlds collide, the viewers might not have exactly a strong emotional bond because you do not know who you should be supporting.
But getting back to the characters, the movie shows how circumstances can change us all. One stays steadfast even at the most testing times, one who had almost everything loses it all while the other who did not seem to have anything suddenly gains a lot. That is the philosophy from the way I see it. Politics is just used as a smart backdrop-since that is one area where the different strata of society can collide and crash. Anything beyond that is just a wrong way of looking at it, and probably even a wrong message being promoted through this movie.
Another thing Ratnam is certainly trying out or rather experimenting is on his action scenes. We have the RGV style hard hitting brawls, the post-Matrix style slo-mo fights and to top it all, a grande brawl right in the middle of a busy Kolkotta bridge that might be civillian chaos, but cinematic brilliance. But yes, the tacky special effects also come into play there and lessens the impact to an extent.
Acting wise it is Ajay Devgan who holds the fort by showing why he has emerged as one of the strongest performers of the country today. However to pass off Devgan as a college student is like passing off Shahrukh as a army officer. It just does not gel that easily. Not that he looks too old, but the fact that the ones with him all look as young as Vivek boy makes things worse for Ajay. But still one fine performance.
Abhishek Bachchan gets to prove a point to all those who claims that he should not be in the industry. Because under the watchful eyes of a director like Ratnam, he has given a great performance that would likely see him bagging a Best Supporting Actor award at the end of this year. It shows that he is still very much a director's actor. So it is advised that he sticks to veteran directors, rather than tie up with debutants and close buddies. However in the last half hour, as his acting got stronger and powerful, his character seemed to be losing his way. And eventually his character is lost completely in the chaos. That was the only sore note in the whole chord.
Vivek Oberoi also was splendid in the loverboy role and was one of those tailor made roles for him. But he still did not look convincing enough to be what he eventually becomes at the end of the movie.
Of the ladies, all have done and looked gorgeous. Rani gets the big piece of the pie but Kareena and Eesha both gives in some well pitched out display that leaves no much room for complaints. This is one of those few Kareena performances that I thoroughly enjoyed. Of the supporting cast, Om Puri shines in whatever little he gets to munch on. Sonu Sood however fails to leave a mark playin Abhishek's elder brother since the script never gave him that oppurtunity.
Surely the pluses remain Ravi K Chandran's cinematography and Rahman's background score. However as far as the main score is concerned, it does look a little out of place in the movie, as most of the songs slide in and out as background scores most of the time. Rahman has changed his usual style of things, and so have Ratnam...if the fast trance numbers are any indication to pace, then that is what Ratnam seems to have done too. He gives us a lot in his 15 reels of celluloid. Though eventually it does not some up to a great story on its own. Anurag Kashyap also does a noteworthy job with the pen on the dialogues.
Where does it stand in comparison to other Ratnam flicks, you may ask- WEll, it might not be up there with some of his earlier works...but it is certainly a better movie than DIL SE and ALAIPAYUTHEY, though it does not match up to the magic of KANNATHIL MUTHAMITTAL. And then just like Rahman's music, Ratnam's movies also have that unique quality of getting better with every other repeat watch.
Its gives its life to the three 'youth' of today and gets us hooked for three hours. Certainly one of the better movies from Bollywood in quite some time, yet might end up pale in comparison to Ratnam's other masterpieces. But the man still has that distinct stroke, that unique touch....its still evident in the frames of YUVA!