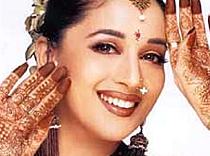 Director Deepak Shivdasani managed to rope in Madhuri for this movie which also stars Ajay Devgan and Preity Zinta, and the shooting for this movie is fast progressing.
The movie is definitely going to be an important one for Ajay Devgan, who after the debacle of his home production RAJU CHACHA is badly in need of a good film to cement his box office status.
The burden is also definitely on Ajay Devgan's shoulders as he plays yet another double role in the film while Madhuri plays his wife, whereas Preity Zinta plays a petty car thief who falls in love with the other character played by Ajay.
Now to begin with, Ajay Devgan double role films have always met with disastrous results, his recent Deewane being the latest example. How this movie will fare would be an interesting thing to see.
More about this movie as we reach its release date!!!