Hrithik Roshan's first movie of 2001, and also the first time he is paired with the other hot newcomer Kareena Kapoor, and what more...it is a Subash Ghai movie ofcourse.
Well, take a look at the stuff Ghai has been giving us in the past few years...TRIMURTI, PARDES, TAAL...all were big disappointments one after another. However the music, and the hype all combined rakes in a good initial. And this time too, it is gonna be no different.
But is Ghai's new movie, YAADEIN any worth all the hype or is it just another over-hyped trash like his previous few flicks?
THE STORY
Jackie Shroff plays the role of Raj, a restautant owner in London who has to become not only to a father, but also a mother and a good buddy to his three teenage daughters. And then we have his best friend, a wealthy businessman Lalit (Anang Desai) and his son Ronit (Hrithik).
Now Ronit falls for Raj's youngest daughter Isha (Kareena Kapoor).
What follows is how a father is trying to bridge the generation gap and try to invoke indian culture into his duaghters, while the "rich" businessman boy have to marry this "middle-class" restaurant owner's daughter, and then we have status and class talks coming in between.
Another crappy storyline from the showman of Bollywood, Mr. Ghai!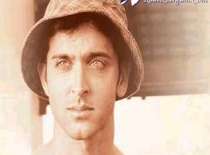 WHERE THINGS WENT WRONG
The first hour or so has nothing but mediocre stuff. The movie seems like heading nowhere substantial. Even Hrithik comes to his own only in the latter half. Now that takes some patient viewing.
What should have been a sensitive tale of a father-daughter relationship becomes yet another Bollywood mainstream candy romance flick.
The Hrithik-Kareena chemistry is nowhere to be seen.
Subash Ghai just crams in all that Bharathiya-sanskar crap every now and then. I think it is high time we stop discouraging this Ghai technique. We very well can do without it. Ghai shrewdly makes movies that can touch a chord with NRIs and hopes to rake in cash in the foreign market atleast. Oh Pleeeeaaase!
The newcomer females are all pretty looking models, but acting wise, none of them look like ever-lasting! Needs to seriously brush up their skills before they take up another assignment.
The music has failed to live up to the expectations that one expects from a Subash Ghai movie. Anu Malik has certainly come up with decent numbers, but nowhere in the league of TAAL or for that case even PARDES.
Actually I think it was a Jackie movie all along, and Ghai changed his script inorder to give us more of Hrithik. That is certainly why the film looks like it lacks focus.
Jackie 'papa' always singing the family songs and all, kinda shows how Ghai hasn't moved with the times, and is still stuck up to his cinema of the eighties!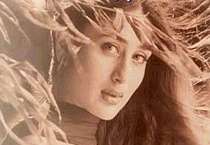 WHERE THINGS WENT RIGHT
Hrithik Roshan once again justifies why is a crowdpuller. He has done a wonderful job in this too, and with each movie he simply keeps getting better and better. But sadly the first half completely ignores him.
Jackie Shroff also comes off very impressively in his role. Jackie is another man who is getting great roles to play one after another, and not the usual hero stuff.
Kareena Kapoor, Amrish Puri also do a good job of thier respective roles.
Though music wise it is not groundbreaking, the title track is one magical number indeed and shall linger on your mind for a long time.
The second half somehow pulls the movie back on track and hopefully it might save the movie in the end.
The movie does have a glossy look thanks to Kabir Lal's cinematography.
FINAL VERDICT
As long as there is the GHAI tag on the movie and then we have Hrithik and Kareena in it, this movie too might go on to do well. And overnight, this mediocre movie might be another KAHO NA PYAAR HAI. For in Bollywood, you never know.
But the truth is YAADEIN is as pathetic as most of the other disappointing releases. But then again atleast the other movies failed trying something new. Subash Ghai just wasn't sure whether his movie was about the father-daughter relationships, or a love story between the rich and the poor. Ghai however is hell bent on bringing stereotype back into Hindi cinema. Or in other words, give the same rubbish over and over again.
Another disappointing movie from Ghai trying to woo the NRI audiences.