ReViewed by Akshay Shah
With eash passing day the face of Indian films is changing......WAISA BHI HOTA HAI PART 2 tackles a serious theme like the underworld which has been witnessed time and time again...but laces it with wit, humour, a superb narrative technique and above all some wonderful performances which make the film a definite must-see and although it may not be a classic it certainly is step in the right direction.
The film revolves around Puneet (Arshad Warsi)-a copywriter who is trying to get over the fact that his brother was a underworld don who recently got shot dead. Puneet goes out with a hard headed cop (Sandhya) and one night after a argument Puneet is kicked out of home. While spending the night on the park bench Puneet manages to save the life of Vishnu (Prashant Narayan) who happens to be one of the biggest underworld figures in Mumbai. Despite initial apprehensions the two become close friends and slowly start spending more time together. Puneet learns that even though Vishnu is a killer...he has a heart of gold.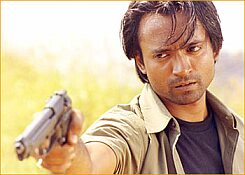 On the other hand their friendship doesn't go well with Vishnus boss Bhau(Anant Jog) who feels that Puneet is influencing the way that does his work. To add to that rival ganglord Gangutai(Pratika Kazmi), whose only aim is to kill Bhau tries to use Puneet to achieve her goal....
Can Puneet go back to his regular life or will he be stuck on the wrong side of the law forever? The answer to this question forms the crux of the story.
What may sound like a regular run-of-the-mill gangster film on paper is enhanced by its direction and treatment all together making it a fresh and watchable movie.
The credit for this must go to debutant director Shashanka Ghosh. Ghosh presents the stark realities of the underworld without glorifying the underworld....also most movies of this genre tend to get a bit too grim with all the realities...but the manner in which Ghosh directs the movie is punchy and not once does it get boring. The narrative is laced with humour and wit which makes the film one of its kind in its genre. The voiceover effect throughout the movie proves to be very effective.
As a director Ghosh knows what he is doing and is a extrenely able director. He directs the movie with technical flair and his sense of command over the medium is commendable. The friendship between Vishu and Puneet is well depicted and is the best part of the movie. Also the Gangutai track and the hot/cold relationship with Puneet and his girlfriend is well canned. One just wishes the track between Bhau and Vishnu was more developed since that seems half baked.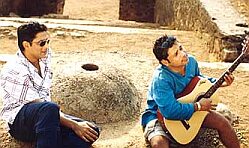 The story of the movie is a mixed bag..at times one feels that it could have been with some originality since the movie abounds in cliches despite its handling..well at others one wishes that Ghosh hadn't been so self indulgent. The whole Part 2 angle of the movie fails to connect with the viewer and ditto for the whole gang of drunken sardars who fail to evoke any laughter and leaves the viewer feeling utterly confused.
In terms of performances the movie is great.
Arshad Warsi is one helluva underrated actor and once again he proves that here. His sense of comic timing is brilliant and his dialogue delivery is impeccable. Although he may not have the conventional film "hero" looks his ability to make the viewer feel at ease with his loving personality and the manner in which he depicts a common man who the viewer can easily identify with makes Warsi a performer to watch for. His performance here certainly rates as his best to date and he holds the film together. He has a magnetic screen presence and his comic scenes are a riot. Just witness the scenes between Warsi and Kazmi which are just brilliant. His emotional scenes are also spot on and Warsi goes through the varying shades of his character with ease.
Prashant Narayan repeats his act from CHHAL! No doubt Narayan is a A Class actor who is full of talent...but playing the same role twice will ensure that he will get typecast. Nevertheless Narayan manages to leave a impact with a natural performance...with the right director Narayan could come up as a character actor.
Sandhya Mridul does well with her small role. Although her screentime is small she makes her presence felt. Anant Jog is excellent to say the least. He enacts his part with utmost conviction and one wishes that his track and the relationship he shares with Vishnu was more developed.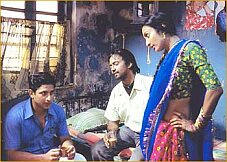 Pratima Kazmi is extremely BELIEVABLE in her role of Gangutai. She manages to evoke fear with her cold evil eyes and her loud garish voice and comes out flying colours. Although she played a similar role in YEH DIL...it is no doubt she can play a role of this nature with 100% conviction and come out flying colours.
Mahima Chaudhury is wasted in a small guest role and its pointless to have her in the movie. Maria Goretti Warsi sizzles in her dance number.
Tecnically the film is upto mark. Camerawork by Andrew Menezes is snazzy and slick. Dialogues are natural and well written.
Musically the film is also above average. SAJNA NAHIN LAGDA TERE BINA, and JISM are both visually striking and easy on the ears but the best song is the ALLAH KE BANDHE qawalli which has a mesmerising effect on the listener.
All up WAISA BHI HOTA HAI PART 2 is definetly worth a dekkho for its direction and performances. The film does consist of a few flaws but those can be overlooked since this is a brilliant effort from a first time director...lets just hope that Ghosh picks a more orignal story next time
7.7 outta 10