So this is how it goes....Salman Khan cooked up a story idea and presented it to direcotr Pankaj Parashar who instantly helped Salman out by making the film. However it turns out that the movie is nothing but a loose version of A Long Kiss Goodnight.
Anyhow this movie is not going to help either Salman nor Pankaj.
Vir lives with his parents (Sharath Saxena and Nishigandha Wad) and spends his days dancing around with his girl Muskan (Diya Mirza).
But Veer keeps getting these strange visions about his life being in danger. Though this keeps going on for some time, it takes a serious twist when he gets attacked by a complete group of strangers.
This is when the parents open the Pandora's box claiming that Vir is not their son and they found him half dead in the river.
So off goes Vir to the city of Mumbai searching for answers about ihs real identity. And it is here he comes to know that he is Ali who along with his friend Inder (Inder Kumar) works for the CBI shooting down baddies. However Ali's life gets into danger when someone shoots the chief minister (Sadashiv Amrapukar) and Ali gets charged for the crime. Also we meet Ali's girlfriend from the city, Mahek (Sushmita Sen) who is now helping him out to find the real killers.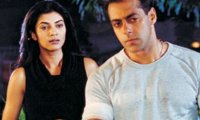 The film might entertain a few, but certainly not many. But for those die-hard Salman fans (Are there any??) out there, they can check this out as this is undoubtedly better than some of his previous outings. But only as long as they dont expect anything 'Oscar' like from the film.
Salman is no top class actor. He might have looks and the body, but when it comes to acting, he is at his worst. The biggest problem that Sallu does is that he can't get into a character. If one scene he tries comedy, then the very next scene, we see another shade.
Diya mirza once again comes up with her goody-goody face but does not really take off as any powerhouse here either.
Sushmita on the other hand, fresh from Filhaal, is much bearable in this film when compared to the other cast members and really does liven up things. However it is sad that we only get to see much of her only in the second half.
However the movie is far from satisfactory. If you are looking for loopholes, there are plenty of that for all of you here. But just going into them is wasting my time and yours. So why don't you just go ahead, watch it and find it all out all by yourselves. Atleast, that way there will something to keep you occupied besides the dumb nit-wit dialogues from Rumi Jafrey.
I can't believe it is the same Pankaj Parashar, the man who made flicks like Jalwa and Chaal Baaz, who is the one behind this film. He simply shows no promise except for a few scenes here and there.
Strictly just for Sallu fans...others can skip this movie, and catch it if any of those satellite channels put it up on cable. :-)