Salman Khan is back..yet in another love story? THINK AGAIN! TERE NAAM is a love story which is far far away from the regular love triangles and mushy sagas that Bollywood churns out every few weeks, it is a hard hitting, disturbing and tragic romance that will tug heart strings all over.
The film is a remake of the Tamil hit SETHU and Satish Kaushik has done full justice to the orignal which is a classic today.
The film revolves around a rowdy and violent loafer (Radhe Mohan), who even after passing college hangs around college bullying people and acting like a "goonda of sorts". Most people fear him..others respect him, but apart from all this Radhe has a heart of gold that not all can see.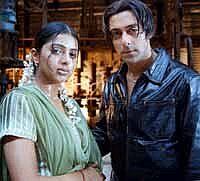 Along comes Nirjara (Bhoomika Chawla), who is the daughter of a priest. Radhe falls in love with Nirjaras simplicity and innocence and hopes to marry her one day. Nirjara only fears Radhe and talks to him out of that fear. She is disgusted by his antics but is too scared to tell him. When Radhe declares his love for Nirjara, she outright rejects him and leaves Radhe heartbroken and unstable.
Nirjaras marriage has been decided to Rameshwar(Ravi Kissen)-a family friend and a religious man. Without realising Radhe saves Nirjaras sister from prostitution and even saves her faltering marriage and soon Nirjara starts seeing the softer side of Radhe.
One day Radhe out of frustration kidnaps Nirjara and declares his feelings for her to the point which leaves him shattered, a scared Nirjara reciprocates his feelings as she sees the "good side" of this angry and violent youth.
Just when things are going right, some goons that Radhe had a fight with before come to settle the score and a heavy and blood filled fight ensues...a fight that leaves Radhe completely brain dead and reduces him to a vegetable. Radhe is now left with no memories...no thoughts....no recollection....he is just a body without any life at all.
Nirjaras marriage is fixed on the other hand and she is all set to marry Rameshwar...Can Radhe come out of his numb state and reach Nirjara on time forms the crux of the story.
Unlike hundreds of love stories about paternal opposition and the rich girl poor boy, TERE NAAM is indeed a "hatke" film which tugs at the heartstrings with its realistic approach, believable characters and splendid performances.
As a director Satish Kaushik shows definite growth and this has to be his best film to date! He shows that he is indeed capable of handling a complex story with complex characters without adding any nonsensical comic angles. The first half is almost flawless with the introduction of Radhes character and his actions. His developing affections for Nirjara are also well canned. The romantic and comic scenes are all well canned and balanced but Kaushik shows his true power in the emotional and action sequences which hit the viewer harder than a jackhammer. Be it the initial fight scenes of Salman Khan, the confrontation he has with his brother or the scene where he kidnaps Nirjara and breaks down in front of her.
The second half of the movie takes a completely different turn, and Kaushik has handled the shift well. The morbid, dark and glum feeling of the movie has been captured perfectly. The only glitch i felt was that the second half was a tad too slow and the constant crying got a bit repetitive after a while, but by the time the climax arrives that is all forgotten. The climax of the movie leaves the viewer gape faced and astounded with a icky feeling in ones stomach. While the majority of the audience will lap the climax up, there is a small section who will find it hard to digest the pessimestic and disturbing note the film ends on.
Kaushik has managed to create the simple look and ambience of the movie perfectly merging it with complex characters and a complex story.
The film does bear resemblances to yesteryear classics like QAYAMAT SE QAYAMAT TAK, SADMAA and EK DUJHE KE LIYE yet bears its own stamp of originality throughout and can definetly be ranked alongside those classics as a tragic love story.
In terms of performance this has to be Salman Khans best performance to date. It is great to see the actor in top form after such a long time and he fits the role like a glove. Salman Khan breathes life into the character of Radhe Mohan giving a nuanced, realistic, and controlled performance which is 100% believable. Gone are the exaggerated attempts at comedy (HELLO BROTHER) and the failed attempts at emoting(Cliamx of HDDCS anyone?). Here is a performance that makes one stand up and notice the ACTOR Salman Khan. The only fault i had with Salman Khan was his hairstyle, although it did suit him in the movie, it tended to get in the way of his facial expressions at times. One can tell that Salman Khan has really tried to work on his performance here and he comes out trumps..... dOnt be surprised if Mr Khan gets his first BEST ACTOR trophy ever!

Newcomer Bhoomika Chawla also gives a worthy performance. Already a well known name down South she now makes her presence felt in Mumbai and gives a performance that will bound to be noticed. The simplicity, innocence and cultural values have been captured flawlessly by Chawlas expressive eyes. She has a startling screen presence and her expressions are spot on throughout just like her dialogue delivery. Her chemistry with Salman Khan is also good, indeed one of the better newcomer Actresses of recent times.

From the supporting cast Sachin Khedkar is convincing as Radhes brother, specially in the scenes he shares with Salman Khan. Savita Prabhune, Radhika Chaudhury, Anang Desai, Ravi Kissen and Saurabh Dubey all fit their characters well.

Newcomer Sarfaraaz Khan(Son of Kader Khan) is a absolute natural as Aslam. He has immense screen presence and is indeed a newcomer to watch out for. His performance is dynamic and with the right projects could well be one of the top supporting actors we have right now.

Mahima Chaudhury sizzles in a item number.

There are certain scenes that will be etched into the viewers mind long after the movie finishes, amongst those will be...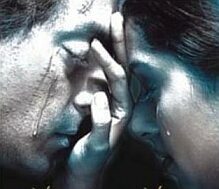 * The scene where Salman Khan fights for a mentally handicapped girl.

* The initial meetings between Salman and Bhoomika.

* The scenes which Salman shares with Sarfaraaz

* The scene where Salman kidnaps Bhoomika and the entire sequence which follows afterwards which will have the viewer glued to their seats

* The fight scene where Salman becomes a vegetable(This fight scene is extremely violence and NOT for children at all).

* The scene int he Ashram where Bhoomika comes to visit Salman...and last of all..

* The heart rending climax and finale which will shock, astound and send shivers up the viewers spine.

Himesh Reshamiyas music ranks as one of th years best. Each and every song is hummable, and some of tracks are just brilliant. Amongst them the title song, Odhni and Tumse Milna are the best of the lot. The picturisation of these songs are also well done as are the dances by Chinni and Rekha Prakash.

Technically the film is spoton. S.Sriram has captured the ambience and feel of the movie perfectly. The scenery of Jodhpur and Agra is shot well, and the camera angles in some scenes show flair. The snazzy camera angles are well done.

Dialogues by Jaiendra Jain are natural to the core.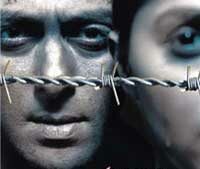 Mahendra Vermas action scenes are one of the films USP's. It has been a long time since Salman Khan has been seen in a action packed role, but here he proves that action is also his forte alongside romance and comedy. Every punch and kick he gives has a thundering effect and Salman is literally smashing in the action scenes. Vermas action is not like the high-tech sort witnessed in QAYAMAT and THE HERO, but more the blood & gore, fist and blood sort which will have the front benchers going wild. The action does get EXTREMELY violence at times and parental guidance is recommended. This leaves me excited for Salman Khans upcoming film SANGHAAR where he dons the khakhee vardi for the first time.
The background music of the movie is apt too.
This is not to say the film is flawless. The pacing of the film is uneven at times. The second half does seem to bore the viewer a little in certain places. Also, a love story of such a disturbing nature will not appeal to everyone, ditto for the gory violence. The scenes in the Ashram in the second half are also depicted in a disturbing and specially females may not like them much.
Despite these flaws TERE NAAM is a extremely well made and "hatke" love story which deserves a watch for Satish Kaushik engaging and realistic story telling, some great numbers..but above all a performance from Salman Khan which deserves a standing ovation...Hats off to Mr Khan
8 outta 10