At last we have something that Satish Kaushik can smile about. He has finally made a remake of a South hit that he can be proud of. Not proud of making it, but proud of the fact that he did not mess it up!

And as I write this, I realise that Tere Naam is getting a phenomenal pre-release response in spite of Roshan's Koi Mil Gaya going great guns since a week back. Now is it all just media-hype? or the fact that everyone misunderstands it to be his own story? Or the fact that it is Salman's first release after almost a year (his last was the forgettable Yeh Hai Jalwa). Whatever the reason for this product being HOT....it surely deserves the attention.


Radhe (Salman Khan) is a big rowdy element who still hangs around his college campus inspite of passing out years back. While many just fear him, there are a lot who respects him too. And this complexity of his personality is what Neerjala (Bhumika Chawla), an orthodox Brahmin girl could not decipher. But Radhe soon begins to fall for the simple girl's charms and soon finds himself wrapped in love for her. But Neerjala refuses to accept Radhe's proposal and writes him off as a reckless rowdy.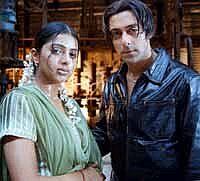 But soon Neerjala does manage to see the 'good' side of this angry young man, especially when he helps her sister from the local brothel and patches her up with her dowry-hungry husband. But even when Neerjala finally does reciprocate his feelings, Radhe have some other problems to sort out too.

Meanwhile, the goons who ran the brother now come back to take their frustration on Radhe, and in the fight that ensues, they get the better of Radhe and leaves him injured badly. The injuries result in a severe brain damage that leaves Radhe mentally unstable. Now with no memory or thoughts, Radhe is left at the mental asylum struggling to survive.

Call it the power of love, or results of actual medication, but Radhe does come back to his senses and recovers quite dramatically. But no one else seem to think so. And finally, Radhe decides to make an escape bid and run away from the asylum, but is it too late to win back his love??


Finally Salman Khan gives a performance worthy of an applause. Not that it is groundbreaking or mindblowing, but simply because it is a lot non-Salman. It is by far the most restrained performance from Sallu bhai so far. Even non-Salman fans will give in and agree that with a proper director and script, this guy can still act it out.
However while the Tamil, Kannada and Telegu had actors who became overnight stars with this flick, what we have here is a star trying to become an actor overnight. This could work in both ways. If it wasn't a big star who was doing this role, he would have been thoroughly appreciated for this role, like say Manoj Bajpai was for his role as Bhiku Matre in Satya. But since Salman Khan is already a big star, people would tend to hold back the praises. Atleast this time no one else is going to walk away with the credits like Ajay Devgan in Hum Dil De Chuke Sanam, or Madhuri Dixit in Hum Aapke Hain Kaun.

But one thing is sure...I don't think he will be winning any best actor awards, not with all that hair covering his face and emotions for a major part of the film. Yes, the ridiculous wig does come in the way, but the long hair ends up as a subject of some of the jokes, so then I think I can overlook the fact. But then again, if not 'the best' performance, it still is one of the most notable show of talent this year. And coming from someone like Salman, makes it the best part of the surprise.
Bhumika Chawla, already an upcoming actress down south makes her Bollywood debut with this flick. Bhumika brings all the experience she had so far and puts it into good use. She really fits the bill perfectly and carries the role impressively. Also good support performances from Sachin Khedekar, Ravi Kishen and most notably, Kader Khan's son Sarfaraz Khan who can emerge to be a very good character actor if moulded well.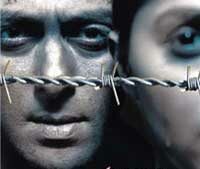 The story is a classic style love tale with a lot of passion and emotion. Its more grounded in reality and not eye-candy stuff like the Chopras and the Johars. Being a south flick, you can put the treatment more on the lines of 'Ek Duje Ke Liye' and 'Sadma' etc.
It is not that Satish Kaushik has given the film his own vision...and thank god for that....its that he has redone the movie in such a way that it will live up to the promise and does not insult the makers of the original in any way. Thankfully, that itself is 'great' news. The first half is quite light and does generate some great laughter even with some simple dialogues. One such instance was the suggestion that Salman gives how to take care of Neerjala's father if he has any problems with the marriage. And the second half does get gripping, dark and depressing as it should be.

What I really did not appreciate of the movie was its music score. A very average soundtrack from Himesh Reshamiya is forcibly pushed into the narration and its gets one too many in the first half. And even if there is some magic in any of the songs, it is ruined thanks to some real poor choreography. Right from the first song, featuring Mahima (what the hell was she doing here?) Choudhary, none of the song picturisations have any grace or quality in it. This was one of the weakest parts of this film.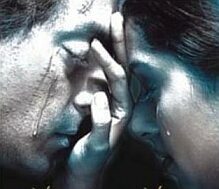 S.Sriram's cinematography and other technical aspects of the film also varies. While the work in the first half seems a lot shoddy and inconsistent, everything buckles up real well in the second half. And the background score in the later half of the flick also really works wonders in enhancing the impacts of various scenes and in disguising any weakness from Salman's acting.
Cannot say how the North will appreciate the dark depressing tale, but it is more emotional and moving than three K3G's put together. At least here the characters don't break down to tears on every other dialogue for no reason. Here the audience really begin to root for the lead couple and that is where a lot of the emotions work. Only if it had fittingly memorable songs for a love story of this caliber....

A touching and moving love story that puts Salman right were he should be - back in the spotlight (not for the wrong reasons, mind you!!). Atleast this time all that pain, frustration and suffering is onscreen and not off it. Hope this performance will be flagged as the turning point of this man's career. Hope an actor is born out of this star. Or is it too late??