ReViewed by Akshay Shah

A movie that looks deep into a mother-daughter relationship that seems to be heading nowhere thanks to the rising tensions between them. Obviously all resemblance to the 1978 Swedish film Autumn Sonata cannot be ruled out entirely.
After making his directional debut with the critically acclaimed FIZA and claiming that he will never make a film again....Khalid Mohamed is back with his second directional debut. Once the film boasts of a talented multi-cast....a female oriented subject....outstanding music......and a technical team which is a dream.....so does TEHZEEB love upto expectations?? ALMOST! The film fails to meet the mark by just a few inches due to some loopeholes in the screenplay.
In terms of a story the film revolves around Tehzeeb (Urmila Mantondkar) who has from a young age had a grudge against her mother Rukhsana Jamal (Shabana Azmi).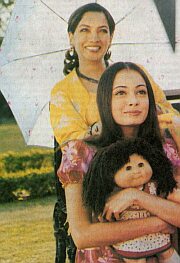 Rukhsana is a playback singer who has seen the dizzy heights of stardom and is a major celebrity in her own right. Tehzeeb suspects her to be the cause of her father Anwars (Rishi Kapoor) sudden death when Tehzeeb was very young. She saw a blurred argument with her mother and father in which a gunshot was fired and her father died....but she isn't quiet sure what she saw....all she knows is that she blames her mother. Rukhsana was even tried in court for murder but was declared not guilty.
Much against her mothers wishes Tehzeeb marries a trashy romance novelist Salim (Arjun Rampal) and settles down in a hillstation far from the city. Tehzeebs mentally challenged Nazneen also lives with them...
Rukhsana decides to visit her daughter and check out her son-in-law for a few days . Initially everything goes fine... but slowly tension starts resurfacing.....years of built up anger slowly starts exploding inside Tehzeeb and spurs out as venom in her words as argument after argument explodes...
What really happened between Rukhsana and Anwar? Was Rukhsana to blame? And will Tehzeebs wounds ever heal?? The answers to these questions forms the crux of the story.
As a writer Khalid Mohamed can never be faulted. Be it UMRAO JAAN, ZUBEIDAA, FIZA and now TEHZEEB Mohamed has always known how to write a excellent story which is worth telling. As always the main protagonists in his story are female strong female characters and TEHZEEB is no different. As a writer Mohamed may not be 100% orignal as the premise of the movie is borrowed from Ingmar Bergmans 1978 Swedish film AUTUMN SONATA-but the transition he makes from the Swedish film to the Indian is applaudhworthy.
As a director too Khalid Mohamed is fantastic! No doubt that Mohamed is a skilled director who has a sense of command over the medium. With a story like this its extremely important to 1) keep the story moving slowly yet managing to engage the viewer and 2) extracting superlative performances from the entire cast that the audience gets captivated.....and that is exactly what Mohamed does. The buildup in the movie is perfect and the manner in which the arguments slowly start occuring between Tehzeeb and Rukhsana are just flawless. From the small tidbits to the huge verbal spouts Mohamed knows exactly what he is doing.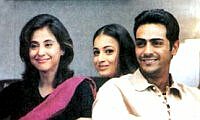 So where does he lose points?? The screenplay! A film of this nature needs to move consistently at a certain pace without any interferences and hindrances. And Mohamed screenplay abounds in inane subplots which have no meaning at all. The entire Diana Hayden/Arjun Rampal track was unecessary and plain boring. Ditto for the Namrata Shriodkor/Satish Kaushik track. Urmila doing a song n dance parody is also uneeded. He made the same mistake by making Karishma do a absrud, out-of-sync dance number in FIZA and it seems like Khalid hasn't learnt from his mistakes.
Nevertheless...despite these flaws Khalid proves that he is a worthy director and i for one will be looking forward to his next film.
In mainstay of the entire film are the performances by the entire crew and once again Khalid Mohamed must be given credit for this.
It is great to se Shabana Azmi back on the bigscreen after a gap and she certainly hasn't lost her touch. As Rukhsana Jamal she gets a multi-layered role,authorbacked role that does full justice to her talent. She looks the part she plays and looks gorgeous. Her presence is dominating on the screen and this film cements the fact that in terms of the histronics no one can beat this actress who is one of the best we have today. A FLAWLESS performance definetly worth a award.

Urmila Mantondkar in the title role gives yet another award winning performance. After her surreal performance in RGVs BHOOT and heartwrenching turn in PINJAR, Urmila yet again gives us a performance that makes us sit up and notice her. The character of TEHZEEB is extremely complex and Urmila perfectly manages to convey the expressions...emotions....and complexities of TEHZEEB. The biggest thing for Urmila would be the fact that she is paired opposite Shabana Azmi who is a institution herself....and the biggest compliment would be that Urmila firmly manages to hold her own in most scenes. She is there in almost every frame of the movie and certainly makes the most of it......yet another award worthy performance for Urmila after BHOOT and PINJAR!

Infact the dramatic showdowns between Urmila and Shabana are the best part of this enterprise. The saequences where the 2 confront each other time and time again keeps the viewer gripped to their seats....
Arjun Rampal in a supporting role comes up with flying colours. To those who would think that Arjun would get overshadowed by the presence of two powerful women in a female oriented film are wrong! Arjun clearly manages to hold his own in the film throughout. He is the perfect balance in the movie which otherwise would be a completely serious film. The easy going attitude of his character adds the required light heartedness to the movie and the impact he leaves is strong. His chemistry with the 2 female counterparts is smashing.....

Diya Mirza gives a OK account of herself. One finds it a bit hard to believe that she is mentally challenged and at times Mirza tries to hard to act. Her delivery is perfect at time while at others its plain annoying. One wishes that Mohamed had chosen someone else with more talent to play this part. Also the disoesque(!!??) number she breaks into is completely out of sync with her character.

Rishi Kapoor leaves a mark with a small cameo. Rest of the cast do their parts as expected...although they have no need to be in the movie at all. Namrata Shriodkor and Satish Kaushik are OK. Diana Hayden makes a poor debut and is irritating. Her accent is just plain annoying and she her looks aren't too great either.

Technically Khalid Mohamed manages to get together a dream team and comes out with flying colours.

Santosh Sivans camerawork is outstanding to say the least and is bound to pick up some award this year. He perfectly manages to capture the mood of the film like a beautiful lyrical painting.

Art by Sharmistha Roy is smashing as always and the sets used on the songs are just amazing.

Musically the film is a slight letdown. Not upto mark with A.R Rehmans usual albums the films tunes seem rehahsed at times and have a "heard it all before" feeling to it. The only song thats worth a mention is MEHERBAAN but even thats letdown by some silly imagery in its picturisation.

Even the much hyped KHOYI KHOYI AANKHEN fails to leave a impact as it appears at the wrong time.

Dialogues by Jaaved Sidiqui are just MINDBLOWING to say the least! If it wasn't for the dialogues the interactions between Shabana and Urmila wouldn't be worth watching. The dialogues are the mainstay of the enterprise.

To sum it up TEHZEEB is a film that is definetly worth a watch.....Simply for the A Grade performance by Shabana Azmi, Urmila and Arjun Rampal which blow the viewer away. But sadly the film is NOT the classic that it could've been. Yet again Khalid Mohamed is let down by a flawed screenplay which has too many pointless subplots and unwanted scenes.....

7.7 outta 10