ReViewed by Akshay Shah
The famous "slasher genre" of Hollywood which produced endless horror classics such as FRIDAY THE 13th, HALLOWEEN, and APRIL FOOLS in the earlier years also with modern hits such as SCREAM and I KNOW WHAT YOU DID LAST SUMMER continues to be introduced in Bollywood! After a failed attempt with the half baked KUCCH TO HAI-SSSSHHH promises to introduce the genre in all its glory with a fresh sexy cast, slick locales above all a masked killer(in this case a clown).
Despite a few flaws and lack of originality SSSSHHH succeeds due balanced and efficient direction, and excellent background score and some decent performances from the cast.
The film is set in a small town in Shimla. The calm and peace of the town is shattered when a young girl Malini(Simone Singh) and her boyfriend are brutally murdered by a masked killer.
Malinis brutal death has a tremendous effect on her sister Mehak(Tanisha) who is still haunted by visions. Add to that the killer is still at large and her next victim is Mehak!
Mehaks friends Gehna(Suvarna Jha), Rajat (Gaurav Kapoor), Nikhil(Kushal Punjabi) and his girlfriend Riya(Teena Chowdhury) try their best to cheer Mehak up. Also trying his best to cheer Mehak up is her childhood buddy Rocky(Dino Morera), who is deeply in love with her but can't tell her!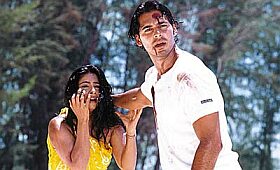 Suraj(Karan Nath) enters the college and Mehak is immediately attracted to his shy manner and charmingly good looks which makes Rocky jealous to no end and starts a rivalry between the two..
Mehaks life turns into a whirlpool when there are many attempts at her life by a killer who wears a jokers mask but she manages to escape each time. One one such occasion a fight ensues between Suraj and the masked killer after which the killer is pronounced dead when he jumps into the sea....yet his body is not found!
The 6 friends decide its time for a holiday and a change to get Mehaks mood better and they decide to take a trip to Thailand. Its all fun and games on the secluded beaches of Bangok and the low trinalge slowly intensifies between Suraj and Rocky..
Soon bodies start appearing left right and centre and it is very clear that the masked killer is still alive and has managed to track them down in Bangok..who is the killer? what is his motive?Sssssshhhhhh....
In terms of a story writer Arshad Sayed borrows heavily from recent slasher flicks like SCREAM and I KNOW WHAT YOU DID LAST SUMMER. The entire first half of the movie seems ripped-off from SCREAM right upto the point where Suraj gets arrested and Mehak recieves a call from the real killer. Even the ending of the movie with having two killers is inspired from SCREAM and even the motives are similar to an extent. Despite the obvious lack of originality Sayed manages incorporate some different twists into the movie and has written some scenes with flair.
The screenplay of the movie is average. Although the suspense is built brilliantly right upto the end, the ending is a bit of a letdown. One feels that more of an explanation should have been given by the killers for the murders. Also the death of many innocent people remain a mystery. The reason behind them confuse the viewer.
As a director Pavan.S.Kaul makes a confident debut. He certainly knows what he is doing and seems like he has thoroughly studied the "slasher genre".. Obvious inspirations from other films, he manages to incorporate his own touch into many scenes and shines through. The use of a jokers mark is effective and all the murder sequences are extremely well canned which is very important for a film of this nature. He manages to keep the identity of the killer a mystery right upto the very end and one must give him credit for that. The audience will have a hard time guessing who the real killer is and the twists and turns every second in the latter half of the movie are brilliantly executed. One just wishes that he managed to get himself a tighter screenplay and didn't borrow soo much from SCREAM. Also the latter half of the movie needed some definite trimming as the movie gets too long. A hint for Mr Kaul-Next time he directs a slasher film..make sure the first murder sequence is edge of the seat stuff which will leave the viewer gapefaced much like in the SCREAM movies. Here the initial murder sequence is cliched and doesn't raise many chills..just sets the scene!
In terms of performances all eyes were on Tanisha. Being Kajols sister and Rani Mukerjees cousin and having a Tanuja as a mother means that a lot weighed on the shoulders of Tanisha. In terms of her debut performance she gives a good account of herself. She is extrenely photogenic and has the "girl next door" look to her. Her figure is smashingly gorgeous with all the right curves. In terms of acting she is good at emoting and comes across naturally. Also her screen charishma is natural and she is easily likeable. She needs to watch her voice modulation as that could do with more improvement. With the right projects Tanisha could well become a huge actress much like the rest of her family....
Dino Morera also gives a impressive performance. He acts ably on screen and oozes confidence. His rowdy personality is translated well onscreen and he expresses well with his eyes. Although his role is not authorbacked Dino manages to leave a mark.
Karan Nath who showed a LOT of potential with films like PAAGALPAN and YEH DIL AASHIQUANA manages to give yet another impressive performance which is bound to get him noticed. He is camera friendly yet again and fits into his role like a glove. His shy loverboy act is well played and he plays his part with conviction.
From the supporting cast Gaurav Kapoor stands out!! Last seen in RGV's DARNAA MANAA HAI Kapoor is a natural talent.
Suvarna Jha acts ably while Kushal Punjabi and Teena Chowdhury are wasted in their roles with no scope to perform.
Shivaji Satam and Maya Alagh play their parts as expected.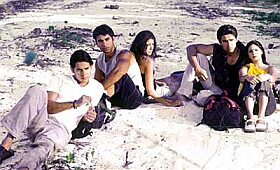 Anu Maliks music is nice and hummable though one wont remember it once they leave the theatres. A film of this nature can do without songs and this is where KUCCH TO HAI failed since it had an overdose of songs. Here also the songs hinder the films pacing in the second half of the movie.
Salim Sulaimans background score is AWARD WORTHY! After a absolutely heart stopping background score in BHOOT, the duo stirke back with another score that really edges itself into the viewers skin and elevates the movie to another level which is very important for a slasher film.
Although both KUCCH TO HAI and SSSSHHH are slasher movies with love triangles-KUCCH TO HAI focussed more towards the love triangle making it seem like a love story with a bit of murder/mystery thrown in...on the other hand SSSSHHH is a hardcase slasher movie where the love triangle is woven very well into the story.
Technically the film is ace. The movie has a fresh and vibrant look to it and Hiroo Keswanis cinematography is smashing. From the foggy locales of Shimla right to the sunny beaches of Bangok.
All up SSSSHHH is a film which has its fair share of flaws yet is still a watchable film which is well directed. If not for a faulty screenplay and unorignal story SSSSHHH could have been a MUCH more...but for all its worth SSSSHHH is worth a dekkho and will find it easily entertaining for a few hours...but nothing more!
<![if !supportLineBreakNewLine]>
<![endif]> 7 outta 10 <![if !supportLineBreakNewLine]><![endif]>