So now after what looks like a goodbye to Kajol, it seems that we get ready to welcome her younger sis Tanisha into the scene of things. For Tanisha will be finally making that 'big' entry into the glitzy world of Bollywood with the upcoming flick 'Sssshhh....'.
Sssshhh might have a very unusual title but the storyline seems to be very much inspired from the usual teen slasher flicks that have soared high eversince Scream and I know What You Did Last Summer.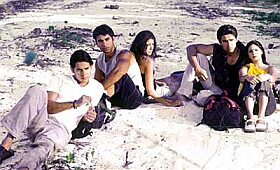 The film revolves around Mahek (Tanisha) who happen to be grief struck with the murder of her sister Malini (simone Singh).
So to help her recover to her ol' bubbly self, her buddies Rocky (Dino Moreo), Sooraj (Karan Nath), Rajat (Gaurav), Gehna (Suvarna Jha), Nikhil (Kaushal Punjabi) and Riya (Teena Choudhary) decides to help her out.
And, then you have a mystery killer on the prowl out to kill Mahek. Despite the masker killer's attempts, he is finally downed by Sooraj and the gang believes him to be dead for once.
But Mahek's recurring nightmares and thoughts about the clown-faced killer makes the friends decide for a long vacation at some Thai beach. But the vacation turns out to be even bigger disaster, with the friends finding bodies falling left and right, and the survivors left to figure it all out before it all gets too late.
The leading man in this flick is Dino Moreo who still have to make a mark as a lead actor. And going by the lousy looks he sport in this flick, I don't think anyone would even take him seriously anymroe. But supporting him is Karan Nath, someone who has managed to impress the viewers so far in both his previous outings - Paagalpan and Yeh Dil Aashiqana. Will Nath steal the show once again from Moreo?
WEll, let the men fight it out...but all eyes will certainly be on the lady- Tanisha as the audiences will be wanting to see how talented is this Kajol's sibling...and if she can be anything close to her elder sister, then we know that we have an 'actress' in hand.
The so-called 'edge of the thriller' is directed by Pavan S Kaul, with cinematography by Hiroo Keswani. The film has been extensively shot in the exotic locales of Thailand, Bangkok, Simla, Manali and Goa. Hmm, looks like the crew were certainly on a vacation!
The music by Anu Malik is certainly above average and is pleasant enough. But the question is how well will these songs gel with the murder mystery thriller.
However the crew will never forget this movie experience thanks to the near-death experience they were involved in. As they were heading towards a shoot, their jeep toppled over the cliff, throwing Dino, Tanisha and even director Pavan tumbling down. Luckily all of them escaped with fractures, without any serious complications.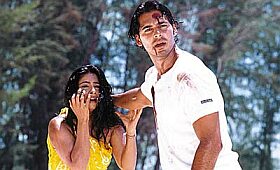 This is Cinevistaas first big attempt into movie making after doing a successful stint in the television industry with several hits and acclaimed serials, the most notable being its current Sanjivani-A Medical Boon.
Hmm, interesting to note that when another big name in the television industry, Ekta Kapoor made a big screen earlier this year, it too was based on the same theme.
Hope Sssshhh can silence the critics and all those who thing this movie does not have much going for it? Or will it be greeted by the 'silence' of empty halls this Diwali. Ssshhh...no one seems to be telling...