To be frank, Abhishek Bachchan's new movie, SHARARAT has one of the most different and interesting of storylines that one comes across in Bollywood films of late. And so you may ask what is it all about?
Well, the story is basically of a fun-loving freak Rahul (Abhishek) who loves to get in and out of trouble at the drop of a hat. Thus as the title suggests, SHARARAT is his fave past time.
But one mischief proves to be costly as he is forced to stay at an old age home for the next thirty days. So our young Rahul ends up in ASHIYAANA, the home for the old age and it is here he comes across various interesting characters.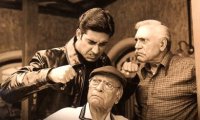 To begin with we have the authoritative leader of the old guys, Prajapati (Amrish Puri). The rest of the oldies includes a caring and loving Anuradha Mathur (Helen), a forgetful Saifuddin (Tinnu Anand), the Gujral couple (Dara Singh and Daisy Irani), and A.K. Hangal as Gajanan Desai. Anyhow, the thirty days ends up being an eye opener for our young man and it changes his life forever.
The movie also stars Ashish Vidhyarthi and Mohnish Behl while newcomer Hrishitaa Bhatt shall play the role of Neha, Rahul's love interest.
Thus it is family entertainment in this old age home setting. Hopefully this could bring back the trend of those fun-loving movies we saw back in the 70s and 80s.
The movie is being planned to be released around mid-July!