Jackie Shroff has been having a bad run as far as his production house JSEL is concerned. Launched with great fanfare announcing GRAHAN but the ill-fated movie took 5 years to hit the screens. By then the movie became nothing but a losing proposition.
But even before GRAHAN released Jackie released his second production movie with Govinda and directed by Mahesh Manjrekar - JIS DESH MEIN GANGA REHTA HAI and strangely the movie was an even bigger disaster.
But Jackie promised us that he will bounce back and he will do that by making a quickie and it looks like he is going to keep his promise afterall.
Sandhya, Jackie's third production, is nearly complete and he pins a lot of his hope on this psycho suspense thriller.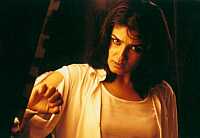 Jackie teams up with ravishing Raveena for this movie directed by Santosh Sivan's brother Sangeeth Sivan. Sangeeth Sivan's last flick ZOR was a big disappointment, but we hope this isn't anything like that.
The key asset to the movie will be the music that will be scored by Sandeep Chowtha who is still going strong after PYAAR TUNE KYA KIYA and the background score of ASOKA.
Anyhow Jackie is expecting to release his new flick in the first half of 2002!!!