Its been a long time but finally Sushmita Sen makes it bag and that too in a full fledged leading role with her new film- SAMAY.
But thankfully, she gets bold and hard hitting roles to tackle and that is good, even if she has to do the waiting around.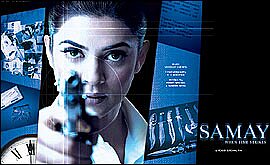 For in Samay, she will be playing ACP Malvika Chauhan- an icon that is looked upto by everyone. She is a renowned officer known for her dedication and she lets her work do the talking.
But right now with a series of murders taking place, ACP Malvika takes on the biggest case of her career and the further she progresses into the case, she realises that the tougher the case becomes.
And with a race against time, Malvika figures out that we are dealing with a mastermind criminal. But who will have the last laugh??
Okay a female after a serial killer....obviously the first movie that pops in your head on just that theme has to be the 'mother of all serial killer flicks' Silence of the Lambs. But one should not forget that the same movie was remade into Hindi as Sangursh but that met with disastrous results. So will Samay manage to stay away from the trap of things.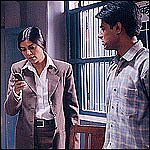 But the real question is can Sush carry a movie all on her own. Obviously we all know that she really did make a mark only with supporting roles in flicks like Biwi No.1, Sirf Tum and Filhaal. But how well a leading role is yet to be seen and just for that, this film is one of the most crucial films for Sushmita.
Sushmita will be supported well though with the acting talents of Sushant singh, Rajesh Khera and Dinesh Lama.
Music from Sandeep Chowta also will really get things going as we all know how well Chowta does the background scores. However commercial factors have even got him to add in an item number, which also is certainly worth a listen even if not exactly rocking.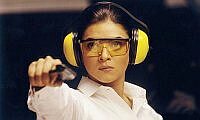 I once did let my appreciation for IDream Productions known, and I would just like to repeat that again. A production house like this that is daring and does not seem to be following the beaten path certainly needs an applause or two for its contributions for the industry.
The film is directed by Robby Grewal, a popular ad maker who was till now known as Harmohinder Singh.
THE PANEL ROOM
| | |
| --- | --- |
| Indiafm 1.5/5 | The screenplay meanders from plausible to implausible at regular intervals. The climax, as mentioned above, is its biggest flaw. |
| | Robby has extracted commendable performances from the main cast, but the treatment of the subject is city-centric. However, he shows sparks of brilliance in scenes that demand thrill. A brilliant effort considering the fact it is his debut vehicle. |