reviewed by Jox
Well Abhishek can smile about this...this is the best product he has managed so far from Bollywood...it is a well packaged action love story that does not mean to be anything more.
So you think you can handle a usual love story with a little sensibility thrown in and not the usual Bollywood rhona-dhona??
First of all let us not go into the plot here...not because the film has no story (ahem..ahem..MHN) but instead it has a story that is very usual and seen ever since the dawn of Indian cinema. Boy meets girl- boy falls in love with girl- girl too likes the boy- but we have family hurdles (read big bad wolf, i mean brother)!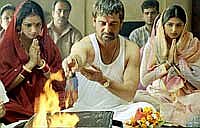 Free bird Sidharth (Abhishek) lands up in big city Delhi from Allahabad for his further studies. And though hesitant at first, he puts up at his sister's (Ayesha Jhulka) place. The reason being he does not have a cozy relation with his brother in law (Mukesh Rishi) from the first day he saw him.
On the first day in Delhi, he also ends up fixing his eyes on a pretty young thing that goes by the name of Jhanvi (Bhoomika Chawla). However Jhanvi though takes a liking towards Sidharth's rather daring approach, she still stays as far as possible. The reason we come to know later in the form of her big brother (Mahesh Manjrekar) who is a big time goon who goes to the extend of cutting down the hand of any guy who dares to give his sister a loveletter.
Sidharth still decides to go ahead and his devil-may-care attitude finally throws him up face to face with the wrath of the goon and his henchmen. But in the meantime, he also manages to win the heart of Jhanvi.
Not much of a story there, right? Yeah, that is exactly what I too say. But the packaging is good, the acting is right up there, and the screenplay is tight and short.
But remember this is a remake and having seen the original, I have to say the jazz of the original is missing. But I guess I better stick to this for a while before comparing it to the tamil version.
What really works is the love story...like in Tere Naam, you feel for the characters. That is something that is very important for a film of such kind. You feel the romance between Abhishek and Bhoomika. Yes, his rustic charm and her infectious smile does create a flutter in your heart and there ain't any haunting background violins or cheesy lines to achieve that.That was a plus factor for sure.
AS a director Jeeva comes decently good but does not leave any signature mark as such, since he hasn't changed anything much from the original as far as treatment or screenplay is concerned. Cinematography though is above the mark...afterall that is what Jeeva does best. He manages to tell the story by using the Delhi backdrop wonderfully. There is no larger than life setting here in order to make his visuals eye-candy.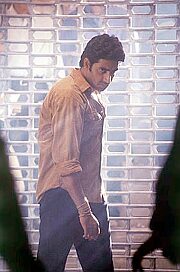 Abhishek. WEll, this is it. If you don't like Abhishek's performance in this flick, then I guess you need not even bother giving him another chance. Abhishek has given his best commercial performance to date in this flick..and when I mean commercial, I mean the whole package- dancing, comedy, action, emotion blah blah. (hope I change that statement next week when YUVA comes up!) Abhishek does throw in the action edge to his show and I am sure such more flicks of similar nature will keep him going good. It is nice to see him opening up onscreen and not being the silent stuck up kinda guy like he was in his early flicks.
Bhoomika Chawla is also a treat to watch. She might not have been asked to display the eye-catching histronics of a Kajol or a Preity Zinta, but she does a great job of her role. Tere Naam and now this...remakes yes...but she is having a great run in Bollywood.
Mahesh Manjrekar also put in a great performance and I don't think he can ever go wrong. While in PLAN he was trying to recreate a KAANTE hangover in one way or another, here it is a totally different approach and with the body language and diction, he has come up good.
Ayesha Jhulka passes off decently in her role, while Mukesh Rishi looks like a big mis-cast in that role. But still he puts in a nice performance. Rishi is certainly a good actor, but this just wasn't his role, that's all.
Then we have Vijay Raaz who has his own comedy track. Personally, I ain't a big fan of this practise. However down in south, every movie, be it comedy or action, a comedy track is thrown in to give the comedian actors some time to show off. And the makers have decided to stick to the comedy track of the original in this one too. Nothing wrong in there, since it was quite funny. But Vijay Raaz have played it slightly loud, and did not have the required comic timing. He is a great actor, no doubt, but he works better when he isn't this loud. Then again, be thankful that it wasn't Johnny Lever doing it as the Bollywood norm goes.
So whether you like Raaz's comedy track will play a big role in deciding how much this movie works for you!
The music was definitley pleasing and the choreography was also pretty in sync. Himesh Reshammiya has come up with a good soundtrack for the movie, and definitely with agressive promotion of the songs, it does fit in very well with the movie.
However what sucked big time was the background score. This is one thing that could have improved drastically, because several scenes lacked that certain impact and I found the bad background score as one of the culprits.
Action however by Vietnamese Peter Hain is a major highlight and is well done. The tunnel sequence, the middle of the road brawl and the finale fights are all well done.
So now where did it go wrong from the original? Well, none of the key players except maybe for Bhumika matches that of the original. Madhavan was more powerful in the original and the reason being...till that subway passage sequence where he rolls down the shutters, he was the cute boy next door. You could never think that he could throw a punch to save his own life. So when he does that eventually, it takes everyone by surprise and from there on he is transformed into a lean mean fighting machine. Abhishek however never looked like a plain harmless boy ever...so that element of surprise was gone. Rishi's character tells this dialogue about 'bringing out the strength from inside'. The original kinda justified that line in every sense.
And then Atul Kulkarni was a major force in the tamil version without whom the film would have never been the same. His eyes was enough to send the fears down your spine. Though Manjrekar is a class actor, the director hasn't managed to recreate the same fear factor this time around.
Otherwise this is quite a decent entertainer that throws nothing much for a critic to complain about, and then again nothing much to praise about either.
Good action entertainer and is definitely worth a watch. Good performances, good music, good action, good repackaging of an beaten-to-death plot would be good enough to see that this movie manages a decent RUN at the box office. Anything above that is Abhishek's bonus!