For the major Indian public, he is a well known face from the television. But ask someone from down south, Madhavan is the latest heart throb down there. He burst into the scene with ALAIPAYUTHEY and ever since then there was no looking back for this young man.
Unlike the other big heroes from the south, Maddy has absolutely no problems when it comes to speaking or emoting in "hindi". So obviously he definitely has an advantage over there to make it big in Bollywood.
And finally, the prayers have been answered and Madhavan shall be getting his big break with REHNAA HAI TERRE DIL MAIN.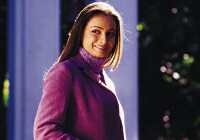 So the movie, well it is absolutely nothing new for him. It is just a remake of his rather unsuccessful Tamil movie MINNALE. And the movie is directed by Gautam Menon.
Diya Mirza plays the role that was played by Reema Sen in the original, while Saif Ali Khan replaces Abbas.
The movie kicks off with a short yet sweet intro into the rivalry between two college dudes. One is a rather decent senior Sam (Saif Ali Khan) while then there is the ruffian brat Maddy aka Madhav Shastri (Madhavan). And they both leave college with certain things unsettled between the two.
Then we are shown three years later when Maddy has toned down a lot from his college days, but somewhere deep he is still the same. And one of the strangest thing is that the man stays away from females. Well, that was so until he meets Reena (Diya mirza) and it was love for him at first sight.
And so then we have Maddy after Reena only to find that Reena is engaged to marry some NRI, Rajeev who would be coming down to India in a few weeks. But his dad (Anupam Kher) comes with a trick, and accordingly, Maddy poses as Rajeev in front of Reena for the next five days.
Everything goes well, and soon Reena begins to like Maddy...only to get a shock after a week to find out that he wasn't the real Rajeev. But more shocks for Maddy too when he finds out that Rajeev is none other than his old college rival "SAM"....(Saif Ali).
So the rest of the movie has the two old rivals fighting it out for the lady while she herself has a lot of wounds to nurse.
Gautum Menon does a decent job of handling the movie. Though there is nothing sensational over here, the key is that he has avoided making a lot of mistakes and blunders that we usually see from Bollywood directors. And thankfully even several of the light scenes though might be a bit loud, they certainly aren't crude.
This movie hits the bullseye when it comes to entertainment, and good music. However being released in a hurried manner, that too a week before ASOKA and INDIAN really was a setback for its own prospects.
The movie starts off on a wonderful note, with that college intro. But it was too short and with the next few reels, the tempo of the movie begins to fall. And even when Maddy meets up Reena, the next five days have nothing charming to offer. I mean, yes, Maddy spends some quality time with his girl but nothing thus is shown by which you could say that Reena is madly in love with the guy.
The movie really begins to take off only post interval with the return of maddy's rival...Saif Al i Khan. And then on the movie begins to get interesting and keep the viewers attention for good. The climax is once again at the Airport lobby...which seems to be the only major cliché in the film.
What I really liked about the movie is the fact that the hero is not your typical Mr. Perfect. He is all wrong and is definitely not the kind of guy the girl is hoping to end up with. But finally her heart does go out for a completely wrong guy, which makes good irony for entertainment.
The biggest asset to the movie is the soundtrack of the film by new sensation Harris Jayraj. The songs are simply mindblowing and even the picturisations of these songs do justice to several of the songs. Even the background score is worth the listen. Sadly, producer Vashu Bhagnani failed to push the hype over the songs the same way like he did earlier this year for MUJHE KUCH KEHNAA HAI.
But what really disappoints is the costumes. They have given the stars all kind of weird color combinations and dresses possible to make it as colorful as possible.
Madhavan makes a good debut here. Though at times I find this certain "Shahrukh" - ism to his dialogue delivery and expression. Anyhow, i hope he can make it big in the industry for that cute smile is quite contagious indeed. The man managed to deliver the goods with a kind of ease as if he is already some movies old, which by the way he is. But after an year in Tamil movies, he is hoping the same success in Bollywood. And yes, it would be good for Maddy to lose some of those extra kilos.
Then we have Diya Mirza. She replaces Reema Sen from the original, and the truth is she needs to go a long way to make it in this industry. Some scenes simply do not take off due to her rawness. She needs to improve a lot when it comes to her dialogue delivery.
Saif Ali Khan on the other hand is a real trump card here. After great roles in LOVE KE LIYE ... and then DIL CHAHTA HAI, his role and performance in RHTDM is a welcome addition to the list. He brings in the sparks and spunkiness to the whole film.
Anupam Kher is just about okay in the role of the hyper-active, loony dad which he has done numerous times on screen. But among the supporting cast, the man who really shines is Heerji, who is brilliant as maddy's buddy. One just hopes he getter better roles in the future.
All in all, a decent entertainer and some great songs, that you wouldn't mind sitting through. Worth the watch if you are simply looking for entertainment!