Govinda is back...with yet another mindless and mind numbing comedy which fails to entertain the viewer!
its really about time Govinda got his hands on some decent roles with worthy director as it is truly obvious that his age old comedy formula that started with David Dhavan is now tiresome.
Does RAAJA BHAIYA have a story? I guess you could call it that!
The film revolves around Raja (Govinda)- a small town simpleton who has taken an oath to remain a "brahmachari" his whole life. On the other hand Pratibha (Aarti Chhabria) is a happy go lucky youngster who will become the sole rightful owner of her property after she turns 21.
On her birthday Pratibha meets with an horrible accident while driving. She survives the crash but forgets her entire past and acts in a childlike manner now and Rajas mother brings her home to stay with them...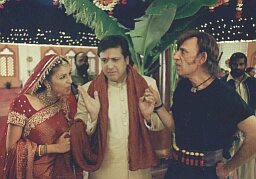 Raja tries all the tricks in the world to get rid of her but fails...and in a twist of events Rajas mom announces his wedding to her and Raja unwillingly obliges as he cannot say no to his mother.
Rajas heart also takes a changes when Pratibha saves his mother from a fire and loves blossoms in Rajas heart too...
The story takes a abrupt turn when the uncles resurface and upon finding out that their neice is still alive. They take her back to Mumbai and a simple Raja pursures her back to Mumbai and tries every trick in the book to get her back from her uncles. But once Pratibha remembers her past and gets out of her amnesiac phase she cannot remember anything about Raja and the time she spent with him....how Raaja Bhaiya makes Pratibha remember forms the crux of the movie.
Although the story sounds like it could be a serious movie on paper it has been treated in the most juvenile manner like most other Govinda starrers of late and fails horribly. Most of the gags in the movie are irritating and dry and don't tickle the viewers funny bone at all. The twist of events when Govinda travels to Mumbai and his antics there as a doctor are tiresome and unwatchable! Also how Pratibha regains her memory again and how Raaja makes her remember him is indeed LAME and just plain STUPID! Also the climax of the movie is indeed some sort of unintentional parody on SADMA which is just plain pathetic.
Rajiv Kaul Praful Parekh need a reality check.....their story and screenplay is devoid of any form of entertainment or intelligence at all which is indeed very scary!
For a comeback vehicle director Raman Kumaar has chosen a plain stupid movie. Maybe the gap has taken a toll on his ability to direct a movie and he needs to be throughly reminded that over the years the audiences tastes have changed. They can pick a bad product when it is presented and that is exactly what RAAJA BHAIYA is. The movie moves as a lethargic pace at times and tests the viewers patience to no end..
Imtiaz Patels dialogues aren't upto mark which is a MUST for a Govinda comedy.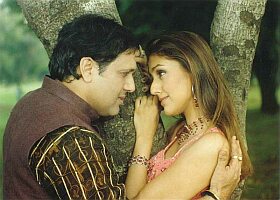 In terms of performance Govinda also fails! This is maybe one of the first times that Govinda has failed in a comedy movie. Usuallly no matter how bad the movie is Govinda is in full form...but here Govinda looks aged, tired and fails to register a impact or raise a laugh. The best part of the movie is when Govinda thinks of ways to get rid of Aarti from his house but fails....apart from that this is a completely dull performance from Govinda. His pairing with Aarti is also unconvincing as he looks too old to be paired opposite and age is taking a toll on Govinda. It is really about time Govinda changed his tracks and started taking his career more seriously!
Aarti Chhabria is below average. She irritates till no end when she is playing the amnesiac patient and even when shes not she is just OK. To give her credit she looks absolutely gorgeous and her a figure to die for;).
From the supporting cast everyone is too loud and irritating to register any sort of impact with the exception of Sadashiv Amrapurkar who manages to raise a laugh or 2.
Technically the film is poor and Nadeem Shravans music is also below mark with the exception of TU JO HAS HAS KE.
All up RAAJA BHAIYA is one unberable and unwatchable movie which even the most ardent fans of Govinda will have difficulty watching.
2 outta 10