And after KASOOR, director Vikram Bhatt comes up with yet another psychological thriller for the Bollywood audiences
The promos were there everywhere and most of them easily could make out that it was inspired by 'What Lies Beneath'. But the Bhatt clan - Mahesh, Mukesh and Vikram insisted that the movie had nothing to do with the original and it was inspired by a real-life incident that happened to Vikram.
But watch the movie and we know what liars the Bhatt-dudes are. This is undoubtedly a rip off from the Harrison Ford - Michelle Pfeifer scary flick, and there is no two ways about that.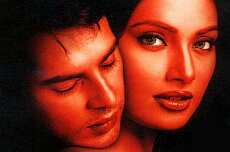 The story is a thriller that deals with the young couple of Aditya Dhandraj (Dino Moreo) and his wife Sanjana (Bipasha Basu) who is not exactly having a great marriage life at the moment. So giving their marriage a last shot they decide to go to Ooty for a break, the place where they fell in love initially.
But the house they put up at Ooty soon ends up haunted, and strangely it seems that only Sanjana can see the ghost. And soon we find that there is a link between the house, the ghost and this crumbling marriage.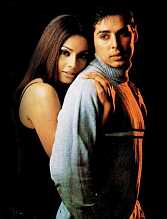 So here is a spooky tale ripped from a Hollywood flick but sadly, Vikram Bhatt is no Robert Zemeckis.
But the only good thing is that it is certainly a welcome change for Bollywood viewers who have been subjected to senseless romantic, patriotic or family dramas most of the time. And thankfully it should be noted that this movie does not become like a 'Ramsay' brother flick, ensuring that it does not turn to be a B-grade flick.
The first half does bring on the spooks and scares thanks to the sound effects. But the second half does get a bit too predictable. But no matter which way you go, it is sad that we still need 'neemboos' as ghost-detectors. Thankfully, the cross isn't brought out in this movie.
Bipasha Basu seems to be the saving grace in the movie. She can soon develop into a noteworthy actresses as the releases come by. Dino Moreo should not try this field though. He was nothing but a disappointment in his debut, and now too he is no better. Dino boy, stick to the ramp!
And sadly, I dont find much of on-screen chemistry here between the real-life lovers either.
Ashutosh Rana, plays a loony professor and one wonders who sketched out a character like that? This is one character that gets on your nerve, more than any ghost or ghoul. Newcomer Malini shows some promise in her short role.
Vikram Bhatt did well to convert On the Waterfront to the Aamir starrer Ghulam. He just about did okay with the Jagged Edge version - Kasoor. But here, the screech gets to you, and instantly you know that Vikram is trying too hard.
Bipasha Basu made her debut with AJNABEE for which she was very much appreciated too. But if she needs to stay in this industry, there is nothing better than a hit.
Nadeem Shravan's oh-so-familiar tunes still manage to hold the interest of the audience for some reason and is certainly catching on.
RAAZ gives many a spook or two if viewed in a hall. But otherwise, there is nothing so 'raaz' in this and is just disappointing. And hopefully Vikram Bhatt will give us something original in the near future!