Mahesh Manjrekar is definitely one of the brightest talents in the country. But his habits of doing several movies simultaneously seems to affect his movies and the results eventually.
So what if his movies does not set the boxoffice exactly on fire? Atleast, the man does tries to give us something new and daring most of the time. Unfortunately both his recent movies TERA MERA SAATH RAHEIN and EHSAAS failed to sizzle despite the honest attempt.
And unfortunately, his latest PITAAH is also nothing but a major disappointment too.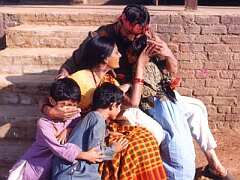 Sanjay Dutt plays the role of the low caste mazdoor Rudra who has a happy family and leads a peaceful life with his wife Paroo (Nandita Das) and his three kids. And they live in a village which is single handedly ruled by the zamindar (Om Puri). However things take a tragic turn with Rudra's 9 year old girl getting raped by the zamindar's drunk sons.
Though a case is filed against the zamindar, he manages to walk away free from the clutches of the law. And at this time the broken down father decides to take matters into his own hands and hand out the punishment himself. And his wife is always there supporting her husband.
Meanwhile the local cop (Jackie Shroff) is also after Rudra trying to stop him from breaking the law.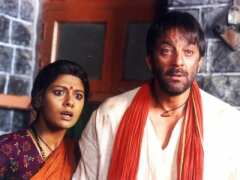 The movie could have been a heart-rendered revenge saga just like the original from which it is based upon, A TIME TO KILL...but one must also remember that the English flick was a legal drama that is trying to prove whether the father was right in his actions of killing the rapists.
But here Mahesh Manjrekar, though starts off on a right note, fails to do justice to it as the movie progresses. The movie definitely does not stop for unwanted scenes and moves on a straight note. But the problem is the second half- where the director is kind of confused as to how to carry the movie forward. The end result is a half filled with violence that sees no end.
And it is nothing but a huge disappointment to watch a potential subject like this straying from a off-beat saga to yet another thakur movie product of Bollywood.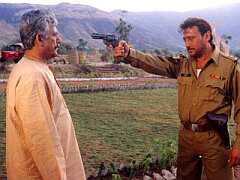 Sanjay Dutt does make an impact in his role, appearing droopier and with lesser dialogues but it looks like trying to play to the gallery was a ploy that will be a setback for this film.
Nandita Das puts in a committed performance of whatever she has got, and so does Om Puri as the evil zamindar. Jackie also does a good show in a small, but badly written role of a cop.
A few scenes does strike a chord, some manages to get you emotionally touched...but except for those few good moments, the rest of the movie fails to live up to the expectations.
Anand Raaj Anand's music simply fails to make an impression and that just makes matters much worse. If there were some good music, it could have been a great support for this grim- revenge movie.
Mahesh Manjrekar tries to give some difference to the tale but the movie does not come nowhere close to the standards set by Vaastav or Kurukshetra. But this is just another ordinary movie with nothing to really thrill the audiences.