Rajiv Rai, the man who brought you blockbusters like TRIDEV, MOHRA and GUPT has decided to come up with another big movie to win your hearts, and he has taken his regular aide, music director Viju Shah along too.
Going by the track record of Rajiv Rai, he sure must have another winner in the offering. But this time, there is a major difference to the whole thing. There are no action and gun shots like any of his usual movies.
So the man, known for slick, multistarrer action thrillers have decided to try his hands at a new ball game - romance. And he does it in style by trying to sketch three different shades of the same thing, that is PYAAR, ISHQ AUR MOHABBAT.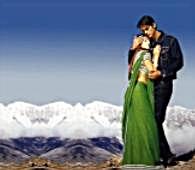 First of all, we have a rich businessman in Yash Sabbarwal (Sunil Shetty) who excels in the game of business but finds romance to be a bit out of his reach when he falls for a young and beautiful medical student Isha Nair (Kirti Reddy). And to make her dreams come true, Yash himself takes the initiative and sends her to Scotland for further studies on scholarship arranged by Yash himself. Obviously Isha wouldn't know about this.
Now in Scotland, we have a perfect gentleman of a chap Taj Bharadwaj (Aftab Shivdasani) who befriends Isha. But while Taj is truly, madly n' deeply in love with Isha, for Isha it is nothing more than a casual friendship.
And last but not least, we have Gaurav (Arjun Rampal) who is a model and loves turning on his charm and winning the hearts of females. In other words, Gaurav is a typical flirt for whom breaking a lady's heart is as easily done as winning one. And to such a person comes along a challenge to win the love of Isha, and so he goes about his new mission.
That's not all. Also in the group of Isha's friends are Rubaina (Isha Kopikkar) and Maya (Monica Bedi).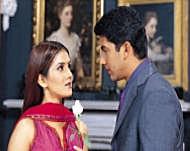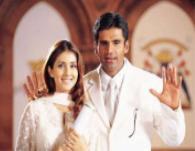 So, basically, what we have here is not a tale of three different men on a common task - to win Isha's heart? And to find out, who is successful, we will have to watch the movie!
Now, usually we have the normal love triangles with a girl being wooed by two gentlemen, and if this is different from them in any ways, then it is simply because Rajiv Rai is smart enough to add one more lover into the picture.
Now the real winner from the looks of all this is none other than the leading lady, Kirti. After watching her in TERA JADOO CHAL GAYA, it was quite evident that she was all looks and nothing else. So it would be interesting how Rajiv Rai can handle this raw talent in the best possible manner. After all she is the object of everyone's affection over here.
Also managing big breaks for themselves is Arjun Rampal, Isha Kopikkar, and yes Monica Bedi.
Aftab too would have been in that list but thanks to his decent KASOOR, things are slightly better for him that the rest of them.
And we also have a strong and solid Sunil Shetty, who seems to be carrying off from where he left off in his last memorable role, that of DHADKAN.