PARWANA is a action film that immediately reminds one of those regular 80's action potboilers which are mindless from start to end. Despite the presence of Ajay Devgan who has been in a lucky strike of late with BHOOT, QAYAMAT and GANGAAJAL doing reasonably well, PARWANA is a lost cause.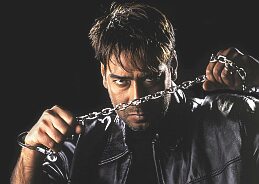 The film revolves around Parwana (Ajay Devgan)-a robinhood type character who steals from the rich and helps the poor. He is aided by his group of friends including Reema (Pooja Batra).
Parwana is an orphan, the closest he has to an family is Inspector Hardeep Singh(Sadashiv Amrapurkar) and his wife played by Ketaki Dave. Ketaki always helps Parwana in escaping from all his crimes, while Hardeep warns her that she is spoiling him and one day she will have to pay for it.
One day Parwana encounters Pooja (Amisha Patel) and cupid strikes as he falls head over heels in love with her.
An unfortunate accident occurs and Pooja meets with an horrible acident. To pay for the accident he has to steal again. He steals a briefcase from a man and runs. Parwana is caught and the cops arrest him...but bigger problems lie in front of Parwana as the briefcase he stole contains a bomb used by terrorists!
Parwana is put behind bars and tortured by Inspector Tode (Gulshan Grover). There he learns that a group of terrorists working for the cause of Kashmiris aided by their leader(Sharat Saxena) are the real masterminds behind this act. They are aided by the Commisioner of Police (Akhilendra Misra) who Parwana stole the bag off...
How Parwana proves his innocence and saves Mumbai from a major bomb blast forms the crux of the story.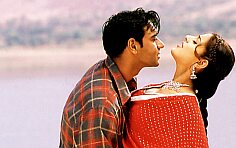 In terms of a story writers Rajeev Kaul ,Praful Parekh have written one that is as old as the hills. All the proceedings in the movie are extremely cliched and has been witnessed a hundred times before. Even the characters in the movie are dull, flat and lifeless.
Bahrys screenplay is also formulaic and offers the viewer nothing new at all. The love story between Ajay and Pooja bores the viewer till no end, and even the entire terrorist angle has been handled childishly and lacks depth.
As a director Bahrys direction is awfully bad. These kind of films have stopped being made since the late 80's early 90's and seems like Bahry has been caught in the timewarp of sorts. The film was originally meant to be released in 1999.....even if it was released then it would have been equally bad going by those standards. Not once does the film pick up momentum or grip.
In terms of acting Ajay Devgan sleepwalks through a role that he has done to death in the earlier stage of his career. This is the kind of role that he did in films like VIJAYPATH, PLATFORM, EK HI RAASTA etc before his career really took off. His look in the movie ranges from his old get-up to his new QAYAMAT look inconsistently which shows the time lag in which the movie was made. As always Devgan is superb in the action scenes.
Amisha Patel is awfully pathetic in her underwritten role. She has minimal scenes and is mostly there for the song and dance sequences. She can rank this alongside KRANTI, AAP MUJHE ACHCHE LAGNE LAGE and KYA YEHI PYAAR HAI as another turgid and dull performance.....she definetly needs to improve her emoting skills. Iam now convinced that GADAR and KAHO NAA PYAAR HAI were both 2 very lucky flukes. She looks gorgeous in the songs and thats about it.
Pooja Batra has no role to speak of literally. Her role consists of about 2-3 scenes and she leaves no impact at all. Wonder what made her sign this movie?
Sadashiv Amrapurkar is sincere in his role and is natural in the comic scenes, ditto for Ketaki Dave who does her Gujrati act with panache. She manages to raise the laughs. Kader Khan and Jagdeep are passable in their comic roles.
Sharat Saxena is great as the stereotype villan and leaves a mark ditt for Akhilendra Misra.Sayaji Shindes character has no reason to be in the movie at all what so ever and Shinde is WASTED terribly here. Gulshan Grover repeats his "bad man" act that has been witnessed time and time again. Rest of the cast perform their roles as expected.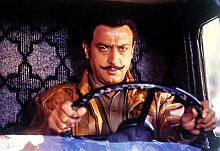 Technically the film is jaded and out of sync with todays times. Damodar Naidus cinematography is horribly stale. Veeru Devgan's action is a highlight of the movie. Like PHOOL AUR KAANTE the film is filled with authentic daredevil stunts performed by Ajay Devgan and they are a delight to watch, but even they seem a bit jaded by todays standards when hi-tech action flicks like THE HERO and QAYAMAT are being made.
Sanjeev Darshans music is POOR. One PYAAR TO HOTA HAI PYAAR stands out, and even the picturisation of these songs are very normal.
All up PARWANA is a film that should never have been released. Every aspect of the movie is jaded, stale and out of date..and even the most ardent fans of Ajay Devgan will have a hard time sitting through this nonsense!
1.5 outta 10