Ok lets get the ball rolling...
The promos are out, the websites up.
Looks like the biggest flick of 2007 is going to heat things up at Bollywood. And King Khan is ready and all set to woo his regular audiences with Farah Khan's second directorial venture OM SHANTI OM.
Farah Khan did a pretty good job with her debut MAIN HOON NAA and we all know how capable she is in bringing a certain amount of visual freshness to the screen. And from the looks of it, she is all set to do exactly that with her latest OM SHANTI OM. Afterall the director in Farah, does not believe in anything high-brow. Only in pure entertainment, with all the masala, Bollywood style.
Obviously it shall be with none other than her trump card Shah Rukh, ofcourse. And Shah Rukh looks tailor made to don such a role with ease and elan. And cast opposite Shah rukh is model turned actress Deepika Pudokone. Supporting the duo are Shreyas and Arjun Ramphal.
The music of this film is by Vishal Shekar who is bound to do a good job, come what may. Afterall I agree they were the perfect choice after initial talks with A.R.Rahman did not work through. Gulzar pens the lyrics for this one, and obviously being the directorial venture of Farah Khan, the choreography is bound to be splendid.
The plot we have over here is one of reincarnation. And Farah decides to name this aptly, OM SHANTI OM. For one of the most memorable of movies on this theme had to KARZ in which Rishi Kapoor hums the famous song from which the title comes.
So is it a remake of KARZ. Thankfully no remakes for Farah Khan. Instead she opts for a new plot, a new storyline. The only problem I find is that it is very much similar to this Robert Downey Jr comedy CHANCES ARE.
So how does the plot go in this version.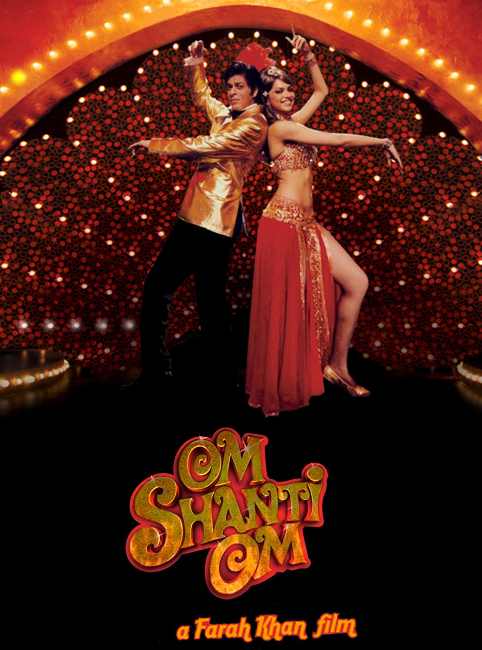 For some dreams....one lifetime is not enough.
So the tag line says about this tale of Om and Shanti. Set in the early 70s, while Shanti is the top leading lady of the movie industry, Om is just a mere junior artist. But that does not stop Om from falling head over heels over the lady of his dreams. So we have Om who is ready to give up anything for Shanti, while Shanti is ready to give up anything for true love.
However the twisted act of fate comes into play, and results in the untimely death of Om.
It is only twenty years later that Om surfaces again, reincarnated, searching for his love of his last life. But now we have a Shanti who is much older . Will Om be able to convince this woman of their love? Will Shanti acknowledge the same?
yes,sounds corny allright. Definitely what I call masala-filled recipe. And who better to handle it, than Farah Khan who knows how to spoof the movies she loves as she takes us through her story.
With one part of the story set in 70s, she has a ball of a time going crazy over the costumes and the funky hairdos. And as far as picturisation is concerned, she will have SFX doing the magic when Deepika is shown dancing with the likes of Rajesh Khanna and Sunil Dutt.
And Farah is definitely not taking any chances either. After brother Sajid Khan packs a song full of leading ladies in his film HEYY BABY, sister Farah decides to go one up by casting half the industry into this one. Songs in the movie shall feature a host of names that includes Amitabh Bachchan, Sanjay Dutt, Salman, Saif, Preity, Hrithik, Govinda, Mithu. And oh yes, even Akshay Kumar returns the HEYY BABY favour with this flick .....Well, bottom line, half the industry is in there. So wanna play...'Spot the Star?'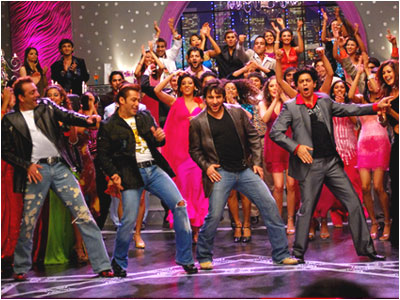 Whatever said, this movie is going to be HUGE. From here on, it looks like there is very little that anyone can do wrong. The movie is expected to open big, and it definitely shall just do that.
I say, 'chances are' we have a blockbuster on hands with OM SHANTI OM.
07/09 After all the news about how SRK is going for a body show in this one, the teaser of his DARD-E-DISCO video is out. And he has really done some work indeed. Check it out HERE