So here comes yet another director from the Chopra-school of film making. After Aditya Chopra, and Karan Johar- the latest in the list shall be Arjun Sablok. After being an assistant with Aditya, he is now ready with his first directorial venture - Na Tum Jaano Na Hum.
The film revolves three main characters - Rahul, Akshay and Eesha.
Rahul (Hrithik Roshan) becomes long distance pen pals with a total stranger. And though he does not even know her name, or seen her...he is madly in love with her and so is she. Does this remind you of Sirf Tum??
Moving on...Rahul's best buddy Akshay (Saif Ali Khan) is a big flirt but again looking for that real love to get him down to be a good boy. When he gets a possible match, he sends down his friend Rahul to check out his would-be Eesha (Eesha Deol).
But we know that Rahul and Eesha are the letter-lovers but sadly they don't. And by the time Rahul does know of the truth, it becomes a bit too late for Eesha is already engaged to Akshay by then. On the other hand, Eesha still have no clue about who her letter-pal is and still hopes for his coming...!
So you think the story is different and worth a look? Think again! We saw a better love story in Sirf Tum which revolved around letters. But here, sadly things just do not click. There is nothing in the movie that makes us really feel for the pair. Actually there seemed to be more chemistry from Saif's side rather than Hrithik's.
Anyhow forget it...the bottomline...in the year 2002 how could a director think of a movie about letters and mail boxes. When the world is on the net, the director seems he can pull off one with a rather modest letter romance set in urban modern India...big mistake!
Then the screenplay suffers and we are pushed into the predictable zone but then again, kept waiting thanks to several sequences and dumb dialogues that contribute zilch to the going-ons.
Director Arjun Sablok has a lot of homework to do because the movie was not all that crap as most of the recent love stories. Yet again, with a star cast like this, we expect a better screenplay and characterisations. However at the end of it, not even a single scene remains fresh in your memory. But yes...Arjun Sablok likes to have a laugh about things and that I liked...for example Hrithik addresses Saif as "Sharmila" and Eesha talking about how imperfect India's pin-up boy is!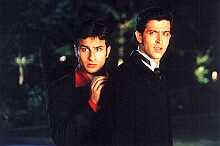 Second...casting Hrithik in such a role is also not a smart move. The man can act, and dance...but that does not mean that he is meant to play such cheesy loverboy roles where he ends up crying more buckets than his female counterpart. So much so that I was wishing that he threw a punch here or there, and even that came and went in a blink. Hrithik looked uncomfortable trying to act funny in the initial reels, and there is nothing he can do to take away those moments from Saif Ali Khan.
Saif Ali Khan however has a substantial role though he wasn't given exposure in the promos. But as the film progressed, Saif had to take backseat to Hrithik. Atleast that is how the script shaped up to be. But Saif comes up with a good performance, but the problem is we have seen him as a flirt several times before...and when you compare his roles in Yeh Dillagi or Dil Chahta Hai to this one...you know that even Saif was asked to play safe!
So then the big surprise..is ofcourse Eesha Deol. i never expected such a good performance from Eesha Deol, especially after watching the dud Koi Mere Dil Se Pooche. So hopefully, one could expect Eesha to reach the standards of her mother if she is given enough time. Lets hope she sticks around that long!
Other stars include Moushimi Chatterjee, Rati Agnihotri, Smita Jaykar, Alok Nath. But trust me, they have literally no role and are just props. Preeti Jhangiani makes a special appearance too. Blink and u miss her!Music from uncle Rajesh Roshan is just about average and won't help the movie much.
All in all a film that tried to be a touchy love tale but nothing substantial to make it worth a second look. But better than that other Hrithik crap - Aap Mujhe Achche Lagne Lage.