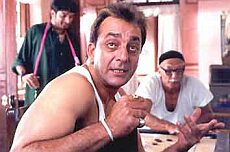 Just like I thought- Munnabhai MBBS always looked a warm, funny but sensitive film with substance and that is exactly what viewers get with this film. Certainly, those expecting another regular Sanju style film can forget it, because this is one of those good movies of Sanju Baba where he does not have a gun in his hand, but still manage to win laurels.
The film is directed by Rajkumar Hirani who is a first-timer. But he is not completely new to this industry as he was in charge of editing Vidhu Vinod Chopra's Mission Kashmir. So when Hirani came up with the idea for this flick, Vidhu Chopra instantly offered to produce the film for him.
However the role initially landed in the hands of Shahrukh Khan. It was only after SRK turned down the offer, that they decided to get Sanju Baba for the role.
The movie tells the story of a wayward son Murali PrasadSharma aka Munna (Sanjay Dutt) who his father Shri Hariprasad (Sunil dutt) always had dreams of becoming a doctor. But the son goes to the big city only to be attracted to quick money and in the process, becomes a 'social worker' of a bhai doing his routine dadagiri.
So to keep his parents happy, every year when they show up, Munna & Co pose as doctors of a charitable clinic. But this year, things go horribly wrong when Munna's father runs into a 'real' doctor and old friend Dr. Asthana (Boman Irani). But Asthana throws the truth out in the open when Hariprasad brings Munna's proposal for Asthana's daughter 'Chinki'.
So to avenge his father's walkout, Munna decides to prove Ashthana wrong by becoming a doctor himself and winning Chinki's love. He cheats his way through, gets enrolled in the medical college, and does manage to win the hearts of everyone around him, except for the dean of the institute - Dr. Asthana himself.
So does Munnabhai eventually get his MBBS??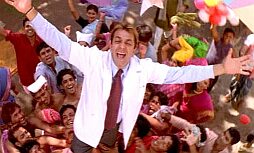 The film does deliver and isn't exactly a laugh riot but rather the feel-good comedy with that sensitive patch, that hits the right buttons for most of the time.
The treatment and writing from Rajkumar Hirani is certainly very fresh to the Bollywood screen, though inspiration from a certain 'Patch Adams' can never be ruled out. And fortunately the film runs on a single track, and we do not stop for sub-plots and sub-characters just to derail the proceedings. But yeah, we could do without a song or two.
The screenplay has been handled very well though the tempo does keep shifting very often. But all is well that ends well, and this movie does end on the right note, and does not go overboard leaving your sensibilities intact. Vidhu Vinod Chopra can look at this film with more pride than some of the other duds that he himself directed.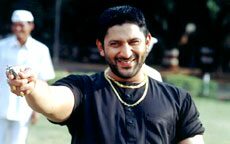 Sanjay Dutt puts in a wonderful performance which is undoubtedly the pulse and beat of the movie throughout. Obviously, this was a SRK role for a long time running, but lets face it - this is one of those roles where noone fits like Sanjay. And Sanjay have improved drastically in comedy timing, no denying that either. In a year where everyone seems to have come back big and strong, how could Sanjay Dutt be left behind? He is here in full force in a crowd pleasing avataar.A role that could win him some family crowd for a change.
But equally powerful and stellar is Boman Irani. He was the perfect foil to Sanju's antics and the chemistry they too share onscreen sizzles.
Obviously Sunil Dutt still commands a great screen presence but unfortunately we get to witness him in only a very few scenes.
For the second time this year, we get to see Gracy Singh donning the white coat and playing the goody-chubby-doctor madam, and she does yet another sweet show.
Also a special mention to Arshad Warsi as 'Circuit' who makes sure that he does not get lost in the crowd. He always possessed that wonderful comic sense that is lacking in most of the big names in Bollywood. Jimmy Shergill gets another short role which fails to give him enough scope to do anything much. But as always, Shergil makes the most of the little that he has got to chew on.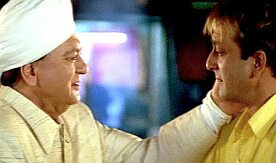 Dialogues from Abbas Tyrewalla is also a job really well done.
The big minus factors of the film were obviously the papa-son hype and the music.
What was supposed to be the biggest USP of the movie, i.e the Dutt son-papa union gets very little screentime. Infact Sunil Dutt is just a very very special appearance in the film and nothing more. So don't expect Sunil Dutt to be up there matching his son for expression to expression.
The other big dud was the music, which is simply a big let down. Certainly Anu Malik could have come up with a much more decent score than this. Despite some decent attempts to heighten the score's impact with some typical fun Acharya choreography, the songs just fails to bring on any magic. But one song that does stand as an exception was the one where Sanju narrates his lost love. what would have been the perfect reason for an item song is executed well without relying on a big star. That's some good work done right over there!
However in the end, MUNNABHAI MBBS is a very well made feel-good comedy and anything unlike your typical Sanju flicks. For those who think it is a little too harsh on the medical profession, then they can settle back for the more serious 'ARMAAN'. But those for some real good laugh, can always check out the latest doctor in town- MUNNABHAI MBBS.
And oh yes, special thanks to Shah Rukh Khan for his inputs in the script- his manic energy is evident in some scenes! But alas, he was more comfortable playing the dying patient rather than a doctor with a cure!:-) (just a bad joke, no offence!)