A comedy about a man in his thirties desperate to lose his virginity. That too from Bollywood....is the world coming to an end or something??
Debashish Chatterjee (Rahul Bose) has quite made it in life, working in an ad company and should be happy with life considering he is just 32. But wait, something seems to bother him - the fact that he is still a virgin. And this comes in his way of enjoying life.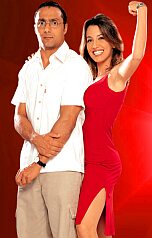 So lose his virginity, you say?? Well, that is exactly why he ends up hooking up with this particular man named "Baba Hindustani" (Vijay Raaz) who promises to help Debu with his problem and sexual tensions. The Baba asks him to meet him at a certain hotel and that is where Debu also meets another friend of this Baba, a film maker by the name of Nitin Kumar.
Little did Debu know that these two are conning him big time. The film maker manages to shoot Debu doing some physical exercices and the same visual is used for a 'porn' film.
The film gets released and goes on to become a big success making Debu an overnight 'porn'star but ironically Debu still remains a virgin. However his life goes through a turmoil, losing his job, apartment and even getting arrested. However that is when Sonali Verma, a journalist comes into Debu's life. Though it all started off with she seeking an interview, Sonali ends up helping Debu a lot and gets more attached to the poor chap.
And Debu suddenly realizes that there is a lot more that love has to offer rather than just sex.
Anant Balani directs this comedy that has Rahul Bose donning the main role of Debashish aka Debu. The film is also spiced with the rest of the cast that includes Perizaad Zorabian, Saurabh Shukla and Vijay Raaz. This will be Perizaad's and late directors Balani's next big release after Jogger's Park.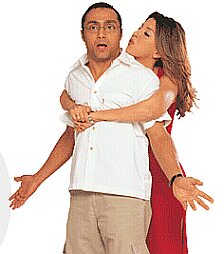 I am really surprised...in a good way. I am surprised at the kind of topics and themes on which movies are being made these days. Scripts and stories have certainly emerged more daring and seem to be heading to places where no scripts have gone before...atleast Bollywood wise. Obviously being different is no guarantee for success, and a lot are expected to falter and even go unnoticed. But that is the price to pay and the risk to take...
But this story and theme really takes me by surprise. A man trying to lose his virginity in India is a major problem, no doubt....but never before has it come out in black and white like this. Agreed it is an instant recipe for comedy, but a lot depends on how cleanly can Anant Balani pull it off. It is easy to take the wrong step in such situations since there is only a fine thin line between being funny and being grossly crude. Lets hope the makers stay behind the right line....and if they do, we might have a refreshingly funny flick.
And if behind that line it stays, Rahul Bose is going to make Debashish Chatterjee a blast of a character. No doubt about that...!
THE PANEL ROOM
| | |
| --- | --- |
| IndiaFM 1/5 | Loosely inspired from THE GURU, MUMBAI MATINEE has an engaging first half. But the graph of the film does an about-turn in the second half. |
| Mid-Day 1/5 | Some 'funny' scenes apart, and the kahani mein twist, Mumbai Matinee is a nonsensical script, with gratuitous themes, like the gay man with HIV and a laboured — and tackily styled — item number. |
| | The mix of characters is electric, and many of the darkly humorous one-liners, liberally peppered with sexual innuendoes, have the audience chuckling. |
| | Mumbai Matinee is like a delectable bag of potato chips. Crunchy and fun and yet filling in a between-meals sort of way. |
X-tremely Good: 1 Positive: 1 Mixed : 0 Negative:2