reviewed by Jox
Whoa...hold your horses. Here is yet another David Dhawan comedy where he gets his usual camper Salman Khan and teams him with Akshay Kumar and tries to give viewers something Dhawan haven't in a long time - a successful comedy.
But Great Expectations might work well with someone like Charles Dickens, but it is always better if you don't keep such things reserved for a Dhawan flick. Cause no matter how talented the cast and crew that is assembled, there is always something that keeps his flicks from being memorable material.
It is safer to just start going into the juicy analysis and skip over the plot, simply because like all Dhawan flicks, no one had a substantial story written and the screenplay is just a sorry excuse for having some fun.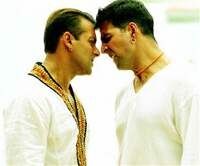 The chemistry between Salman Khan and Akshay Kumar is simply ace. Salman has really got into the 'nice little' boy character so splendidly that Akki has no trouble in convincing how 'wicked' wicked Sunny can be. And together the duo brings in a fresh chemistry that was otherwise forced onto Sanju-Govinda, Salman-Sanju etc. One certainly wonders why this two never got together before.
Salman is improving by a great deal and Akshay's comic timing has also tremendously developed over the years. And it would be unfair to say that one stole the show over the other.
Another improvement of a performance is from leading lady Priyanka Chopra. Though she hardly has to display much histronics, it is evident that she is heading the right way. Probably a few more filcks like this before she can call herself a 'serious actress'.
Rajpal Yadav is proving to be a man for all seasons. It is also nice to see Amrish Puri back in action with yet another good role though the talents of Satish Shah and veteran Kader Khan are wasted.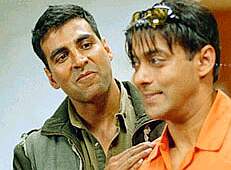 Also people who think our cricketers are bad on field has plenty of reasons to find out why they are hopeless onscreen too. Sidhu however saves face thanks to his rampage of a tongue that he possess. Dont ask me what Amrita Arora and Sajid Khan were doing in the flick, but oh well, thanks for showing up!
So the Dhawan flaws: The music...first of all David saab likes to cram the screenplay with as many songs as possible, all unnecessary. Atleast give us some great item numbers...ala Govinda style. The songs hardly register a ripple. But yes, the choreography of these songs does manage to save the day. So what if one song seems to be spoofing Rangeela/Daud.
Action was better, and the much hyped fight sequence between Salman and six Akshay Kumars was well executed and was nicely done. Sanjay Gupta's cinematography also made sure that the film has a slick look throughout.
The humour is there, but the dialogues lacks the sharp wit that writers like Abbas Tyrewalla brought into movies, and also the fresh humour seen in recent movies is missing. Watching the kind of fresh humour infused in movies like Dil Chahta Hai, kal Ho Naa Ho , Hum Tum to name a few, the comedy sequences in this one looks an old-school version. Dhawan needs to come up with new better tricks instead of rehashing the same ol'material.
Even the much talked about climax sequence boasting of some big Indian cricketers is a big time disappointment as there is nothing you are eager to find out by then. In fact you will know the entire thing in the first few reels itself. The rest of the movie is just a way to beat three hours of boredom and nothing more.
Slapstick sequences that gets sillier and sillier as the movie progresses, heavily inspired from MEET THE PARENTS is what Dhawan could do best. Because we two hours down into the film and you realise that the director has taken you nowhere ahead, but instead you are still stuck at the same stop from where you began your ride.
So the story...oh, you still looking for the story...ok, here goes nothing.....
Sameer (Salman Khan) has everything going good for him except for one thing bad - bad temper. And his temper has always gotten him into trouble including him losing his girlfriend (Amrita Arora).
so a depressed Sameer decides to start a new life by taking up a lifegaurd job in Goa. It is here he meets a pretty Rani (Priyanka Chopra), the gal next door (literally) and decides to make her the queen of his heart. Except ...again Sameer has more bad luck when it comes to impressing her father, a retired colonel (Amrish Puri).
But just when you think that you have seen all of his bad luck, things only get even more rotten with the arrival of his new room mate Sunny (Akshay Kumar) who too takes a liking for the girl across the street and from there on its a cat and mouse game between the two roomies in winning lady Rani's heart.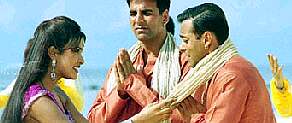 Obviously there is nothing much to add to this thin plot line. We spent two and a half hours working inside this plot and stretching it with yet another slap stick or two before inserting another song into the whole thing.
Eventually you will adore the characters, smile and laugh with them. But that is how far this comedy gets memorable.
Yet another ordinary time pass comedy flick from David Dhawan that might not exactly be in the same ranks of recent better comedies like Hungama/Munnabhai MBBS. But still Akki-Salu makes it all worth a watch!