It was way back in 1981 that Aparna Sen burst into the field of cinema with her directorial debut 36 Chowringhee Lane which instantly fetched her international acclaim. And now twenty years later she once again comes with yet another powerful movie - Mr and Mrs Iyer.
It all starts of on a bus trip which both our lead protoganists have to take in order to catch the next train to Calcuta. Before they get onto the bus, they are introduced to each other by common friends, and since Meenakshi Iyer (konkanna) is travelling alone with her infant son, Raja Chowdhary (Rahul Bose) promises to help her.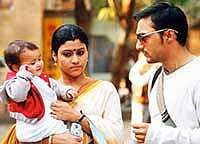 The bus is like your everyday bus with all sorts of people ranging from irritating college kids to a sweet old couple. The happy-go-lucky bus ride however turns all wrong when their road gets blocked due to curfew. And the reason turns out to be communal unrest- a village has been torched, and to avenge that the Hindu extremists are out looking for Muslim blood.
With extremists also gets into the bus, dragging away the old muslim couple. Meanwhile Meenakshi on realising that Raja is actually a muslim going by the name of Jehangir, she saves him by claiming that he is her husband, Mr Iyer.
The rest of the film deals with how Meenakshi and Raja spends the rest of their journey together and how by the time they reach Kolkotta, they realise how close they have got to each other in those few but memorable days.
Not at all the kind of product you expect from Bollywood...and obviously one should not expect anything as such either since this is from Aparna Sen. A refreshing love story - a love story of a man and a woman, from totally different backgrounds and thoughts has been wonderfully unfolded on screen. However it all comes amidst communal unrest that brings the two closer while tearing the nation apart.
Aparna Sen manages to paint some haunting images as she brings us her tale. Raja finding whatever is left of the old man in the riverbed is one of the most remarkable moments.
But the communal unrest lies quietly in the backdrop and amidst it blooms hidden feelings that Raja and Meenakshi shares. Though it is subtle, there is no denying of the feelings that grows between the two people with nothing common between them...but alas, the journey will come to an end eventually. And thankfully it does in the most sensible of fashions.
For me it might not have been a film with a strong in your face communal message. But I loved how I witnessed a love story on the screen, one that is so subtle, so much muted and so maturely presented in every sense. Why I loved it? Because something like that is quite rare in the colorful-over loud and musical world of Indian cinema.
Rahul Bose once again puts in a commendable effort in the role of Raja/ Jehangir. The character isnt the usual Bose style of things, but Rahul Bose manages to pull it off pretty impressively.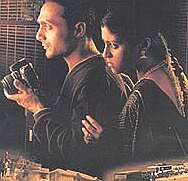 The show is really stolen here by Aparna's daughter Konkanna Sensharma who really gets under the skin of the Tamil Brahmin character of Meenakshi. Never for once while watching the movie did I think that she could anyone else but a Tamilian. So you can expect my shock when I found out who she really was much after watching the movie. Whatever said and done, she emotes very well and her eyes does a great deal of the job. It does a lot of help to Meenakshi's character as well.
Though Aparna Sen has showed a great deal of finesse over the subject and the way she has gone about it....she still could have made the film more hard-hitting and stronger. The pace is very slow to begin with and some scenes are stretched out unnecessarily. Another disappointment was Zakher Hussain's music which was a bit off for me. Could have been a lot better.
But again, if a mute approach towards things is what Sen likes best, then so be it. Inspite of all that I liked and disliked in this movie, it still remains one of the better movies I have seen in a long time. And of all those English movies that keep bombarding in, this is right up there...probably just behind Mira Nair's Monsoon Wedding.
Unfortunately no lush switzerland songs or item numbers to please in the average crowd. So no one is going to prescribe this for them.
For if you love lot of sensibility in your reel of cinema, Mr & Mrs Iyer is certainly worth a dekho.