Sooraj Barjatya have always stood tall and strong, against all odds. The man hardly needs to do any talking but when the Barjatyas announce a movie, it is instantly hype-material. Afterall that can be said to be the magic of a man who has given us two all-time trend changing blockbusters in Maine Pyar Kiya and Hum Aapke Hain Kaun. Though his third offering Hum Saath Saath Hain failed to live up the sky-high expectations, it still did quite reasonably well at the box offices. And now four years later, the Barjatyas are back with three hot star kids and hoping to recreate some of their magic. But in the process, the came out with a joke of a movie.
Few weeks back when I strolled out of the screening of SRK's Chalte Chalte, I thought how ordinary and average the product was. But you know what makes Chalte Chalte a classic, a masterpiece - its movies like Main Prem Ki Diwani Hoon. Forget Chalte Chalte, even this movie makes Yaadein look good. Have I got my point across??
The movie is so bad that I have no idea from where to start ripping it apart.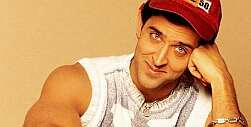 Sanjana (Kareena Kapoor) is just out of college and her parents are already planning her marriage. So when her elder sister, settled in States, suggests a marriage proposal from a leading businessman Prem, they look no further.
And so they receive Prem (Hrithik Roshan) with open arms and keep him as a part of the family while they try to get Sanjana hooked to Prem. Prem, being the cheerful person he is wins the heart of everything close to Sanjana - her parents, her pets, her friends and finally even her own heart.
And while love blooms between the two, Sanjana's folks come to know that the businessman Prem could not make it to India yet and the guy who has come down as Prem is actually a junior manager Prem Kishen working in the same company. So now they realise that their daughter is hanging around with the wrong 'Prem' , and so they get ready to welcome the real Prem (Abhishek Bachchan) and his mother (Reema Lagoo).
Sanjana easily gets along with the new Prem too and finds that they share a lot in common. But suddenly when she comes to know that it is this Prem that she has to marry and not Prem Kishen, she is torn apart. Now she is left to choose between the two Prems.
Shot largely across the landscapes of New Zealand, the makers hope us to fall for their custom made town called Sundarnagar.
Everything about the movie is either too loud or too silly. The narration moves at a lethargic pace and the first half comes to a big halt with a 30 minute Valentine Day sequence. It was a terrible pain to sit through and one wonder why did the director even bring up such a sequence in the first place. The first half was such a dud that it takes Johnny Lever to show up in the second half to bring some life into the movie. Now that would show how bad everything before that actually were. Also why would anyone in the right sense of mind grant 195 minutes of screentime for a age-old love triangle like this??
Barjatya also needs to move on from their 'animal' formula. The animated talking parrot was one of the biggest irritations throughout the movie and I am shocked to know that this is the same thing that Kareena mentioned would be a rage after the movie. So much for taste, dear! And Barjatya is a director trying to woo family audiences? What was with all the extra body show and frequent camera shots at all the wrong places. I never saw any honest intentions behind all that.
Adding to the woes is the disappointing music from Anu Malik. Somehow none of the songs manages to win the audiences attention, except maybe for the 'Kasam Kasam' song towards the end of the film. Production values are rich and the cinematography is also good. But those are hardly the words you can use to describe the script and screenplay.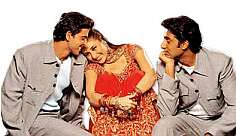 As far as the actors are concerned, the trio of star-children are in for yet another big flop to their dis-credits.
Hrithik Roshan plays out the role of Prem, a role that seems to have been written for someone like Salman. Hrithik just overacts a lot trying to be this talkative, over enthusiastic guy. Alas he even tries hard to infuse the kind of energy that Shahrukh brings to screen at times. But all in all, Hrithik fails desperately. Whenever he tries to be funny, he looks so wrong that it seems like he just walked in from the Koi Mil Gaya sets.
Kareena Kapoor plays once again her character too loud. She once again seems to be putting too much effort than what is required and it comes out quite bad onscreen. While some scenes she does excels, in some of the lighter ones she does go overboard.
Waiting for Abhishek Bachchan to show up in the second half seems an eternal wait. And he comes onscreen with some great screen presence and literally has to do as little acting as required. Most of the time he just has to stand back, and deliver dialogue after dialogue sternly like his papa. But it is only once when he turns up that some sensibility creeps into the movie.
Pankaj Kapur does a great job as the father, but being a Barjatya movie, I honestly did miss Alok Nath. Reema Lagoo also has nothing much to do here. The rest of the cast is so-so.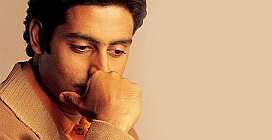 Hardly the kind of movie you want to even try your three hours on. If you still want to go through the motions, do sit down and watch Rajshri productions CHIT CHOR - a well-acted movie rotted in simplicity with a touch of great music. Even if you do not want to go that back into the past, I would suggest another flick - Priyadarshan's Arvind Swamy-Anupam Kher comedy Saat Rang Ke Sapne that boasts of a similar plot.
However Main Prem Ki Diwani Hoon, a modern day version of the very same Chit Chor is definitely in the running for one of the worst films of this year. Boy, and my head is still reeling from that horrible thing I saw. My advice- Watch it at your own risk!!!
--------------
Oh yes, the movie has opened BIG allright. From India, to the Gulf, to even centers in US and UK, the advance booking for this film has been phenomenal. But after watching MPKDH, I can predict that the Barjatyas will have a tough time setlling their next product in the same market.