Ace cinematographer Ashok Mehta's directorial venture MOKSHA earlier this year won two coveted National Awards - Best Cinematography and Audiography.
But then on wonders how come a movie that was cleared last year hit the screens only one year later!
Anyhow what was supposed to be Arjun Ramphal's debut movie, ends up as his third release. But trust me, if this was his first film, it could have certainly done wonders to his career. Not that now it won't!
And for those who still are wondering how this movie is- well, either you will appreciate it or you will simply hate it. Yeah, it's one of those movies!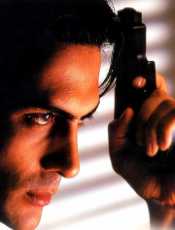 Arjun Ramphal plays the role of a fresh law graduate Vikram Saigal, who refuses to practice law since he feels that the establishment is simply not what he believed it to be. So he decides to take on the system which is downright corrupt and swears to don the gown only when he fulfils his mission - which is to ensure justics is served to one and all, even if it is for the poor and the needy.
But this dream requires a hell lot of money to even take off and that never happens.
And when he finally does enter the court, it is to defend himself and to justify his beliefs and actions.
A tale of how a man for the better good of humanity have to resort to lesser evil.
And in between all this is his lady love Ritika (Manisha Koirala) who takes the backseat to the dreams of Vikram.
WOW is the only word I can think of describing the visuals of this film.
Ashok Mehta has done an outstanding job with the camera, and shows us why he is a respected cinematographer of this industry.
The movie definitely is not going anywhere at the box office that is ruled by movies like K3G and other such candy floss romance flicks. But he is a movie that is daringly different and is a perfect finish to a year that saw wide and varied films like LAGAAN, DIL CHAHTA HAI, GADAR, AKS, PYAAR TUNE KYA KIYA, ASOKA, ABHAY and now this....!
MOKSHA is a thinking man movie and that is evident in the way the director has decided to narrate the story. One cannot go on and ask questions about the movie as you see it, for you will have to sit back and the answers will come at its own pace.
The present is shot in black & white while the past is literally revealed in color. Whichever way, both are so beautiful to watch. Though most of the backdrop are obviously well-constructed sets, it is given life under Mehta's camera.
Nice to see a tale told about how someone from the super rich class can actually work for the needy. And also a wonderful look at what frustration can do to a man.
But the movie also has its shortcomings.
First of all, there is no much of a story. It is a thin one that comes to you at a slow pace. And the pace could get to you at times. This is simply because Ashok Mehta the cinematographer is given preference over Mehta the director. The director is simply looking to get each frame look as beautiful as possible, forgetting that he was here to say a story.
And then a soundtrack which fails to take off. Rajesh Roshan's music fails to match up to the cinematic excellence set by Mehta. And then these is the last minute item number - Jaan Leva, which comes up in a place where you least want it to be.
But then no matter what the flaws are, it certainly deserves more than what several of these so-called movie critics are giving it. Hey, movies should not be measured by the success it gets at the box office.
The movie did hit the headlines much earlier this year with two National awards for cinematography and sound. And no one can deny that this movie deserves it.
This movie is Arjun Rampal's biggest movie to date and certainly looks like it will be that way for a long time to come. Bettering this isnt' going to be an easy task. Yes, he might have a hit sooner or later, but his acting and his looks in the movie can't be beaten easily. Sadly this is no star son like Hrithik or Tusshar, nor is it a typical Bollywood crap like KAHO NAA PYAAR HAI or MUJHEE KUCHH KEHNA HAI. Or else this offbeat Bollywood flick could have done better for itself and for everyone involved in it.
Manisha Koirala does a good job in her role but at times she looks too old for the role. She keeps looking different every now and then.
Sad however is the special appearances from top names like Paresh Rawal, Naserudin Shah, Danny, Gulshan, Saurabh Shukla who just walks in and walks out doing nothing substantial.
Despite the slow pace and the thin storyline, MOKSHA is a movie that is visually splendid and deliciously spiced up with a splendid performance from Arjun Ramphal. Though not everyone is going to like this movie (atleast not in India), MOKSHA is different and a commendable effort by director Ashok Mehta. Hopefully his next movie will get a better reception at the box office.