ReViewed by Akshay Shah
Ram Gopal Varma is always known for bringing something different to the screen be it directing with films like SATYA, JUNGLE, COMPANY and BHOOT or producing by giving his talented team of technicians a turn at directing with films like SHOOL, PYAAR TUNE KYA KIYA, ROAD and DARNA MANAA HAI. MMDBCH falls into the latter category!
The film revolves around Chutki(Antra Mali) who is completely mad over Madhuri Dixit and wants to be like her one day. She lives in a small town called Gajrola with her parents and younger sister. She is famous for her dances in the town in which she imitates Madhuri and she is dead keen to travel to Mumbai and become a actress like her idol.
When her parents find out her dream they decide to marry her off. Raja(Rajpal Yadav) has been Chutkis best friend since childhood and is madly in love with her although he would never have the nerves to tell her. He will do anything to bring a smile to her face and make her happy. He comes up with a solution that if Chukti marries him he will take her to Mumbai and fulfil her dream. The two get married and under the false pretence that Raja is off to start a business in Mumbai the two are off on the next train to hit the starry lights of Mumbai. Upon reaching Mumbai they find out that things are not as easy as they seem and everyone in Mumbai are after their own benefit. The two face struggles and obstacles in every path and the road to stardom is much harder than they thought.
After some false starts they encounter a film secretary who gives upcoming stars their first break(Govind Namdeo). He gets her a part in a dance video at first and after seeing her performance there he gets her a solo actress project with stars like Amitabh Bachchan, Dev Anand, Shahrukh Khan etc.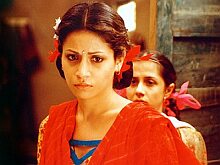 At the Mahurat of the movie Chukti learns that it is the look-alike of stars and not the stars themselves playing the part and Chukti is heartbroken. She still goes ahead with the project and the project ROSHNI is completed.
Bioth Chukti and Raja rush to see the first day first show of the movie where they are shocked to see that the theatre is nearly empty. They listen to the disgusting comments made by the people in the theatres and Chukti is heartbroken!
She decides to move back to Gajrola with Raja and lead a simple life back in her village....What happens next form the crux of MAIN MADHURI DIXIT BANNA CHAHTI HOON!
In terms of a story the film has been well written. Right from the early first frames to the end the film flows extremely well on a single track and keeps the viewer engrossed to what will happen next. The film has a touch of realism throughout and one thoroughly indentifies with what is happening on screen.
The screenplay of the movie is also superb and one can tell the effort gone into it.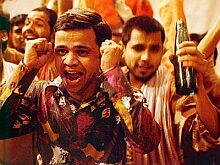 As a first time director Chandan Arora must be congratulated. It is good to see a director in this day and age who is able to make a movie without the reliability of stars and yet directs the film with such conviction. He strikes a good balance between a stark and realistic tale and a fairytale which the viewer completely identifies with. Be it the humourous scenes or the emotionally charged ones Arora is at complete ease and knows his ground very well. Its great to see that substance and story matter more to Chandan Arora rather than stars and gloss and that is expected as he is from the camp of Ram Gopal Varma...he sure has learnt a trick or two from his mentor. The scenes between Raja and Chukti are simply brilliant....Take for example the scene where Raja gets into a fight when photos of Chukti are being taken, or the scene near the end after Chukti sees the audiences reaction to her first movie, MINDBLOWING! On that note one wishes that Arora had manages to retain the pace of the movie in the second half. The film tends to drag slightly and even bores the viewer in certain sections in the second half only to pick up in the preclimax.

Nevertheless Chandan Arora should be welcomed with open arms for daring to make something different and emerging successful.

The performance of the movie are the mainstay of the entire premise.

Antra Mali gives one of the years best Female performances as Chutki. She gets right into the skin of her character and emerges triumphant. Those who think she is just a Urmila wanna-be should think again as she proves that she is a actress to reckon with. Her puppy eyed face, her non glamourous looks and her emotional sequences are all just outstanding. The vunerability of her character is brilliantly executed and Antra becomes Chutki and in the dance sequences when Antra mimics Madhuri she is simply astonishing as one forgets that it is not Madhuri onscreen!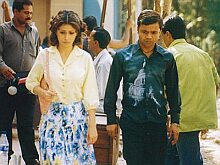 Despite the entire movie being about Antra Mali the best performance of the movie comes from Rajpal Yadav! After a amazing debut in Varma JUNGLE, Yadav was mostly acting in a comic routine with films like TNBP, THE HERO etc. but with this movie he proves that he is one of the most talented actors in the industry! He plays the simple and lovable role of Raja with utmost conviction and one can't help but love his character. The manner in which he conveys helplessness and his gamut of emotions will leave the viewer gapefaced.Its rare that people like Raja exist today and Yadav manages to convey the character of Raja "with a heart of gold" with perfection! Just witness the scenes where he breaks down and cries-It is rarely that we see a actor display such emotions with such a natural flair. Without a doubt one of the best Male performances of the year.
From the supporting cast Govind Namdeo plays his part with conviction. Raman Trikha is also convincing in a negative role. Reeta Badhuri and Benjamin Gillani are good in their roles.
Technically the film is OK. The camerawork is sketchy in parts and commendable in others.
Music by Amir Mohile is OK. The rendition of dance numbers like DHAK DHAK and MAAR DALA and other various Madhuri Dixit songs are excellent and their picturisations are also excellent.
All up MAIN MADHURI DIXIT BANNA CHAHTI HOON may not be everyones cup of tea. It is not your usual dose of masala entertainment and maynot appeal to everyone, but without a doubt it is a well made film. A simple story told from the heart which will touch the heart...Definetly worth a watch!!
8 outta 10