reviewed by Jox

We have always longed to see the big stars accompanied with all that glitz and glamour that the industry gives us. But rarely have we gone deeper to see how they got there and hardly we give a second look at all the struggles that many had to go through, to just make a name for themselves. And I am not talking about all those star sons and daughters who seemed to have got everything easy till date.

Ram Gopal Verma gets a debutant director Chandan Arora and gives us a movie that works on the same lines as that of his very own superhit, Rangeela. This time he keeps the romance out of all the proceedings and show us what exactly it takes for a small town girl to make it big in a big bad world of lights, camera and action!

Agreed, that the title isn't the unusual, but like all Ramu movies, everything about it needs to be unusual.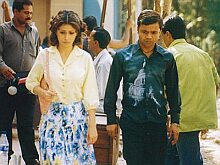 Chutki is an average village girl who dreams celluloid with every breath she takes. She always kept the hopes of becoming someone as big as her star idol, Madhuri Dixit.
But not many believe in her dreams. However Raja (Rajpal Yadav) who is secretly in love with Chutki, agrees to help her to make her dreams come true. Atleast, try to.
Thus Chutki and Raja arrives in the big bad world of celluloid....but there is still a long way to go before Chutki can even face the camera.
So a movie from the house of the Varma Film factory, this time with editor Chandran Arora taking on the directorial duties. So let us for once leave Varma out of the picture, and focus on how Arora fared. Pretty good, I should say,...atleast he has certainly put his heart and soul into telling the story of a small-timers first step into Bollywood, without getting all mushy and dark about it. Trust me, it could have gone that way....
But Arora seems to have been sure of what he wanted to achieve. That is, to get the viewers to identify with the aspirations and dreams of the lead protoganist and thus avoids focusing the dark realities that usually lie on the other side. Thus we have a sweet and simple tale of dreams and dreamers.
You may kill the dreamer, but you can never kill the dreams.
Hmm, now I have no idea why I just mentioned that line, but that is one of the first things I felt like writing after watching the flick.
It is a pleasant watch, not the ultimate fairy tale ride that has the over-the-top glitzy affair ala Rangeela, nor is it a hard-hitting venture. It somehow manages to go through a thin line of realism combined with a dish-dash of fantasy, and eventually stays pleasant. Could this movie have been anything more? Certainly yes. The movie could have certainly used a more lively screenplay and get things going, rather than let things stretch and go bland despite the whole thing moving on a single track. Characters do come in and go out, but they could have been used more effectively rather than just throwing them in for the sake of things. Two such characters are the neighbour and that shady character of Raman Trikha.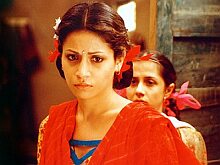 Performance wise, I should say that Antara Mali wasn't all that great. She was extremely inconsistent and you could find her doing the same situations in a different manner in various stages. It had nothing to do with the 'maturing' of the character and you would find her carrying a very different expression each time. And though she has done the homework of getting the Madhuri moves right, her acting seemed to be a lot more from the 'Urmila School of acting'. But even after all that, Antara Mali had a great meaty role and does a satisfactory job in the final count. She really does give her best in the scenes that really mattered, especially the scene in the theatre auditorium.
But I cannot throw such arguments about Rajpal Yadav. A man who has managed to catch everyone's attention in his itsy-bitsy roles (Jungle, Pyar Tune Kya Kiya, Hungama are fine examples), finally gets a great role, and he really does bring the character of Raja very much alive. Just like the character of Raja, Rajpal Yadav's splendid work is one of this film's biggest pillars of strengths.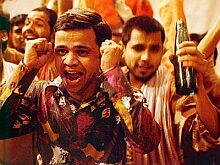 Govind Namdeo shines among a wonderful lot of supporting casts.
Besides a few loose ends here and there, Chandan Arora have managed to impress in most of the departments and is another talent to watch out for. Because to do what he just did - make such an entertaining film without any big names - isn't an easy task. However Arora shows you that with a good story, anything is possible. Except ofcourse predict the fate of the film at the boxoffice.
Music wise, the film had this wonderful 'old-school musical' quality about it and Amar Mohile can be quite happy with his decent debut attempt. Just like the overall feel of the film, even the music is at its stubborn simple self.
The is yet another one of those pleasant flicks that leaves you smiling at the end of it all. As long as you don't expect a Best Picture of the year, this film, its ambience and the performances does give what you need for entertainment.
THE PANEL ROOM
| | |
| --- | --- |
| Indiafm 2/5 | Although the film doesn't star a single known name, Chandan Arora has extracted wonderful performances from the entire cast. Technically too, the film is just right. |
| | Rajpal Yadav is just fantastic in the film. In spite of the film being told from the point of view of Antara Mali, it is Rajpal who walks away with all glory. |
| 3/5 | Not quite Rangeela (though a similar setting), the old-world musical feel and rare simplicity makes Main Madhuri… worth your bucks. |
| | MMDBCH announces the arrival of a talented filmmaker and an actor to watch out for. Arora's command over the art of storytelling and Yadav's brilliant performance make this film a thoroughly entertaining experience. |