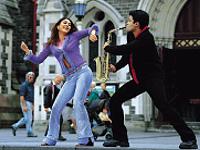 No matter what you call this movie, or who is impressive in this. For the fact remains, whatever the outcome, the real hero in this movie is Producer No.1, Vashu Bhagnani.
For he was the same man who dared to release BIWI NO.1 at the heights of the Cricket World Cup and still managed to make it a super success. It was a surprise how his last movie TERA JADOO... bit the dust. But trust me, if you want to know how to promote a film, learn it from this man!
So now his movie, MUJHE KUCCH KEHNA HAI...directed by Satish Kaushik, is nothing but yet another remake of a successful Telegu film THOLI PREMA.
And what more, it is debut vehicle for yet another star son. This time it is Jeetendra's son Tusshar. And joining him is a one-year old actress Kareena Kapoor who seems to be hotter than her elder sis when it comes to star power!
Simple story though, nothing complicated about it. Karan (Tusshar) is your typical celluloid college guy fo whom studying is the last thing to do on earth. Hang out with friends, get into trouble with his dad (Dalip Tahil) and get support from his sis (rinkie).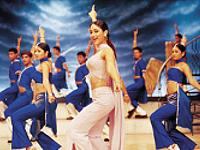 In comes a pretty gal Pooja (Kareena) all the way from USA (where else?) and is doing a study on indian culture (ya, rite!). And Karan meets Pooja, becomes friends, and eventually falls in love with her too. But there comes the problem. He just cannot seem to gather enough guts to tell it to her. And he fears that even if he does, he will lose this friendship that is shared at present.
And the movie goes and goes and goes on, and our Karan boy still have no courage to express the feelings. He is supprted again by his sis and uncle (Amrish Puri) but of no avail.
And at last, its time for Pooja to head back for her education at Harvard, and it takes us right upto the climax to see if any feelings are expressed or not.
Satish Kaushik seems to be a master when it comes to doing remakes and he does a pretty decent job in here atleast. But the screenplay isn't of much help. Atleast he has not gone into that emotional overdose like in those previous Anil Kapoor movies of his.
Now to the acting department. Kareena who proved that she can act right with her debut in REFUGEE, now also proves that she can look dazzling, glam and hip as ever.
Amrish Puri manages to steal the show however as Tauji. The rest of them are just about okay.
Tusshar, oh yes, the lead man of the movie! Now he definitely seems to in the wrong profession. At times he does look cute, but then when it comes to acting, his face never seems to have the right expressions ever. Definitely the least impressive of the present lot of star son debutants, I guess!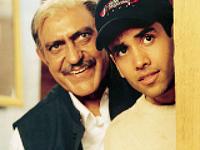 However Satish Kaushik manages to get the viewers to sympathize with his character thanks to some touchy emotional scenes...which are definitely handled well.
And being a Vashu Bhagnani movie...the songs will definitely be a hit. Well, switch on any channel, and you will definitely hear it, and before you know it you will be humming it too. Otherwise this was the same soundtrack which critics pushed aside a month earlier telling that it was a disappointing album from Anu Malik. And a week before release, it is suddenly the hottest tracks on Mother India. That's business!
In my opinion, there are some good numbers but they all just keep popping up after every few minutes in the movie. I wouldn't blame anyone, for nothing much happens in the movie anyways.
So go ahead and watch it, if you absolutely have nothing else to do! An excuse to waste three hours.
A typical Vashu Bhagnani entertainer, but the worst of the lot...and not really the one to win your applause.