reviewed by Jox
You take villains, backgrounds scores, and fight sequences that would remind you of a lot of recently seen Hollywood action flicks and throw them into a kaleidoscope with desi musicals, desi college, desi politics, desi emotions, family and moral values and ofcourse a very desi hero.
The ultimate of pot pouri Bollywood entertainment is finally here, and just like it promises Farah Khan's debut directorial venture gives a bit of everything- except a good storyline.
And just for that It is sure that this movie will be celebrated and forgotten in a fortnight and that is all that this movie can hope to achieve. A good initial burst at the box office, and then brickbats six months from now for being hollow stuff from the same people who enjoyed the three hours at the theatre. Time pass entertainers would be happy with that kind of treatment, but it would be atrocious if u start talking awards and stuff for this movie at the end of the year.
Produced by Gauri Khan, the film is far from picture perfect. It is a film sans logic, loopholes aplenty, cheesy yet effective and overall an average entertainer in a very glossy package. In other words, lies in the same league as David Dhawan's ANDAZ but just technically more appealing. Even earlier Mahesh Manjrekar tried a similar kind of treatment with PRAN JAAYE PAR SHAAN NA JAAYE, only to flop big time. This will however not meet that fate. Well that is what big names, big stars and big technicians can do to a film.
Definitely the best of films produced by Shahrukh & Co so far.
First five minutes, and you already have a front page fitting story of an attack of a terrorist group led by an ex-army officer Raghav aka Raghavan (Suniel Shetty) on the General (Kabir Bedi) during a press conference. An attack which resulted in Brigadier Shekhar Sharma (Naserudhin Shah) having to give his life up. But before Sharma dies, he manages to confess to his son and also an army officer, Ram (Shahrukh) that he is not the only son and he does have a step mother and brother. Filmy, very filmi.
So now Ram's missions are many...first of all to see the success of Mission Milaap, a first step by the Indian military to ensure that we have a better harmony with Pakistan. Secondly, he has to protect Brigadier Sharma's daughter who looks likely to be Raghavan's next target. And lastly, Ram has to find his step mother Madhu and step brother Laxman and hope that they can forgive him for causing the family to split.
So Ram goes undercover to St Pauls College in Darjeeling, in order to protect the General's daughter and to find his step brother. Meanwhile he also has to keep himself undercover and make sure that Raghavan does not have the last laugh.
Shahrukh is good as always in his role as this army officer turned school kid. And it is definitely one of his better performances in recent times, even more controlled and restrained than the last time we saw him - KAL HO NAA HO. Still as an action figure, he does not seem to have the same stuff in him as we saw back in KOYLA days. But yes, he still can do an action role. But what bothers me is his refusal to change his looks as per the script. I mean the least he could do was go for a crew cut in the initial sequences before he lands up at college.For an actor to grow, it is also important to experiment with his looks,...and except probably for Kamal Hassan's HEY RAM we have never seen him in a different get up. But what he loves to change is his production company...Dreamz Unlimited, Arclightz Films, and now it is Red Chillies. Whatever!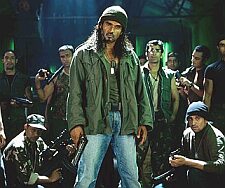 Suniel Shetty as the villain does a great job...looks and acts the part with a punch. Full marks for this man for keeping the tensions alive in the film that seemed to be losing it. And also for giving a fitting finale battle sequence.
Zayed Khan had made a promising debut in his first film, and he keeps up the good work in this one too. However I said it back then and I say it now, it seems hard to accept it as a leading man and I dont think he has that extra bit in him. Probably he should hang around for a bit longer with such multistarrer projects. Amrita Rao is also very much promising and seems to be holding her own in the enterprise despite all the other big names. Those are definite positive signs. But what she needs is more mature roles and mature performances if she needs to stay in the industry as a hot property.
Sushmita Sen never looked any hotter. Especially she is a 'goddess' in that one sensuous item number (one that looked like one of Sajjad Khan's classroom fantasies he had as a kid). But hey, we all knew that she was one hot property, and we did not need all those to prove that point. But acting wise, she was wasted. She was given quite a shabby treatment and has kept her nothing but a show piece to get ur hearts racing. But again, let me stress that she looked such a dream that anyone would have ended up singing with open arms like SRK did, with 'violins & Sax'ophones in the background.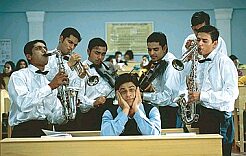 However where the film really has its strenght despite having so many plotholes, wayward story telling, and cheesy screenplay is the fact that Farah Khan manages to inject interesting characters in the film. Boman Irani as Mr.Forgetful with the most outrageous ties, and Satish Shah as the 'Spitting Sensation' of a Physics teacher, were both class acts. Though they were not really given meaty stuff, they really excelled in their roles without a doubt. Satish Shah definitely seems to be coming back with a vengeance with two great performances back to back - in MASTI and now in MAIN HOON NAA. And Boman Irani-well, we should say it is the industry's biggest gain in the past year that we found this talent.
Naseruddin Shah, Kabir Bedi, Kiron Kher are all just names to make the film bigger than what it already is but really does not change the equation much.
The film also disguises itself as a musical by throwin in some R D Burman numbers from time to time. But otherwise to tell that Anu Malik's score is supeb stuff is just pushing it too far. The songs were just ok, and seems to be that good on screen thanks to wonderful choreography from Farah Khan. In fact she can tell more of the story through her song picturizations rather than her actual screenplay. But Ranjit Barot's background had quite an impact on the proceedings.
Coming to screenplay, it was just decent enough with Farah Khan trying to throw emphasis on lots of things, little bit of this and that. Eventually you get the feeling that you are heading nowhere as we tag along, but thankfully the movie ends on a 'feel good' tone. That saves Farah from embarassment a great deal.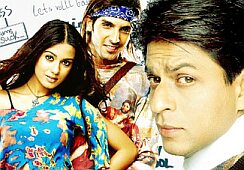 I already mentioned two big assets earlier in the casting department- Satish Shah and Boman Irani. Also add to that two other big assets in the technical department- Manikandan's cinematography and Abbas Tyrewala's dialogue. These two are beginning to become the most sough after technicians in the industry. Tyrewala is become a stunner with his pen these days and coming up with some fabulous dialogues film after film.
Good action sequences from Amin Ali but using the Matrix effect for every drop of the hat is a bit too much. But when the mood was right for big time action, the opening and the closing sequences, it had its impact.
All in all, its a wholesome meal with lots of things that you might not like. But you will end up liking it more, than hating it. But
Looholes are plenty...for the mother to NOT know that such a big officer (her husband) lost his life in such a big (like i mentioned 'front page' stuff) terrorist attack in the next days papers is not something you can digest easily.
And also please do not get me started on that horrible cycle rickshaw (named Dhano) sequence as a throwback to SHOLAY which seemed like would never end. That was horrible with a capital H.
But bottomline, this is a fanboy's dream come true kind of film. Shifting gears from Mission Impossible to Kuch Kuch Hota Hai to GREASE to MATRIX and what not. Farah Khan seemed to have loved her cheesy Bollywood movies, and she just wanted to pay her respects to that. And I am sure the cast and crew had a blast of a time. But from here on, if you want the people to take Farah Khan serious as a female director, she better learn to take a step forward or else she will be easily forgotten with promising newcomers like Karan, Aditya, Farhan, Nikhil Advani, Hirani, Gowariker all ready to take Bollywood a step further.
No one likes to take a step backward from growth, but in this case I guess we can make an exception. Probably because the current box office scenario isn't exactly very good, and we all could use an entertainer of this sorts. So I guess we can let Farah Khan off the hook this time, as long as she doesn't try to repeat this fiasco again. For next time around, this could meet in disastrous consequences.
PS: What in heavens' sake was Tabu doing there in that one shot???