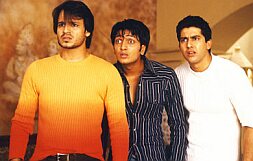 so Indra Kumar goes about experimenting. AFterall with flops like MANN and AASHIQ, it is time he does some experimenting. So then why not go back to a genre that has fetched him success at the box office- loud crass comedy like DIL and ISHQ. Experimentation also goes with Inder Kumar doing the movie on sync sound within three months flat.
All right the comedy is certainly in the same league here. This is your typical Inder Kumar brand of comedy that we have witnessed in several of his movies most notably Dil and Ishq. But what Inder Kumar does not have in this movie is the comic talents of people like Aamir, Madhuri, Juhi, or Anupam Kher. I mean, the comedy is outright loud and vulgar, and in this so called 'sex comedy' Inder Kumar just takes a step ahead to get even more loud and even more crude.
We kick off things with bachelors Meeth (vivek Oberoi) and Prem (Aftab) getting together to show thier support for their buddy Amar as he is all set to tie the knot.
Three years later we realise that all the three might have lost touch with each other, but they all have married and strangely, none of them seem to be happy with it. Amar seems to be having a tough time in the hands of his hygiene strict wife (genvia) and his WWE crazy mother in law (Archana Puran Singh). Prem's problem is a devotee wife who seems to have only prayers and poojas to show her love for her husband. And last of all, Meeth is married to a rich who refuses to give her husband any breathing space.
So these three frustrated hubbies get together one fine day, and decides the best way out of their blues is by having an affair. So given a month's time, the three have to get into an extra marital affair. Each of our guys go through their own adventures in this one month.
But after a month they all show up and they are shocked to find that they have all been dating the same woman - a sexy Monica (Lara Dutta). And now Monica has the tables turned on them, when she blackmails the three men for a huge sum of money. So left with no option, the trio shelves out the money but when they go to pay up, they are greeted with the body of a dead Monica.
What follows is panic, chaos and a cover up of the body. And just when the trio thinks that everything is safe once the body is out of their way, in walks Inspector Sikander (Ajay Devgan) who simply hates crimes, and criminals.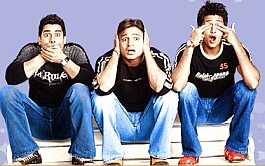 Welcome to the poor man's version of Dil Chahta Hai...a tale of three guys out to have some fun. The only difference was that in that we had three dudes just out of college growing up to the responsibilities of a mature zindagi. Here we have three supposed to be mature husbands who act like some high school dropouts more than anything else.
So it is supposed to be a 'sex' comedy ...but whenever they have a non-sexual joke going around, it seems to be more funny than anything else out there. But wait, when I say 'sex' comedy, dont expect some body show on the big screen. There is none of the HAWAS or MURDER thing going on here, just a lot of double meaning dialogues, and an extension of all the KAL HO NAA HO gay jokes which fall flat on their face on more occasions than one.
Don't blame the script and dialogues then, because coming to think of that there were some great funny one liners in the work by Milap Zaveri but none of the three lead members had the kind of comic magic that a good comedy movie needs. I mean take a look at how Sanju-Warsi-Boman trio had a blast in Munnabhai MBBS. In this the trio of Vivek-Aftab-Riteish are just loud, silly and outright disappointing. And it is quite clear and evident when you have Devgan walking in the second half and showing how to make an impact. And again it is strange because I considered Aftab a reasonably improving actor and of late he has come up with some solid performances in recent times. However the director failed to cash in on his timing and performance and kind of gave the limelight more to Vivek Oberoi. In any other movie, it would have been fine but not in a film which is an out and out comedy like this.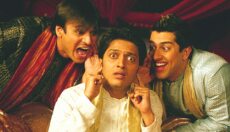 Vivek Oberoi does not seem an easy fit in a comic role like this....and Aftab Shivdasani isnt given ample scope to steal the show. For he is capable of more and he has proven it to all of us. As for Riteish Deshmukh, he seemed to have the silly dumb-wit character of the three, and seemed to be pretty comfy doing it. Adepquate though not all that impressive.
But Ajay Devgan showed some great screen presence in his guest role as Inspector sikandar. From the time he walks in post interval, he was in total control and helped a great deal to heighten the proceedings.
As far as females go, Lara Dutta and Amrita Rao were certainly pleasing to the eyes. And if you combine those two it is worth a star rating. Amrita is the cutest thing on this side of the film industry right at the moment and I think she is here to stay. I hope her forthcoming MAIN HOON NAA cements that thought. As far as Tara Sharma is concerned, I see her not going anywhere. Genelia is just so-so.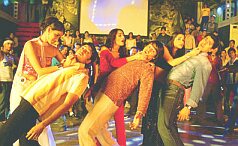 Supporting cast goes, Satish Shah is good, suresh Menon is wasted while Archana Singh is loud and sore as ever.
Musically things were quite above the average.
For starters, this sex comedy might be lapped up by the frontbenchers but isnt the kind of film that the family needs to be walking in. But when I find the young girls giggle their way through for every other corny, crude dialogue coming out of Vivek's and Aftab's mouth, I think anything is possible.
But for me, MASTI is a comedy that is way down there. It just fails to tickle your bones the way it should, and it all settles down at one simple point...for a great comedy you need great comic talents. Vivek, Aftab, Riteish just aint at the moment at a stage to deliver what people like Govinda, Sanju, Aamir, Paresh Rawal can deliver.
And one thing I dont want to know about this comedy is the initial credits ...Special thanks To Ram Gopal Verma. I don't know what that was for, and seeing the final product, I don't even want to know.
And even noteworthy is Komal Nahta was hired as a script advisor for this film. I wonder how as a critic would he react to the same product....never knew Nahta was capable of a dud!